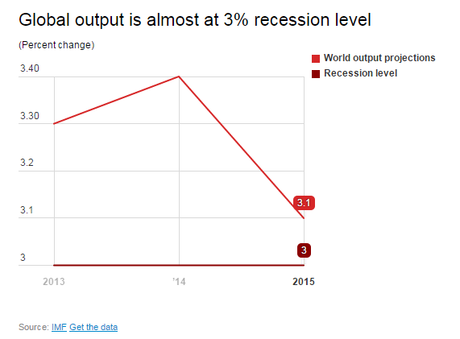 Chart shows world on brink of new recession
The world is dangerously close to plunging into a new recession, according to the latest report by the International Monetary Fund.
The IMF has cut its 2015 forecasts for world output to 3.1 per cent, only 0.1 per cent above the 3 per cent threshold for a recession.
China and other emerging markets are partly behind the lowest annual growth rate since 2009, the IMF said.
Fluctuating commodity prices, such as the cheap oil price, and foreign currency exposure on company balance sheets have also played a part.
Fears over economic instability after the Greek crisis and persistently low inflation have also played a role in dampening growth in developed countries, the IMF said.
The IMF has created a graph showing that recession risks have increased for most developed economies and Latin America, relative to estimates from April.
A longer-term projection, drawing on past shocks over a time, show there is a small decrease in the probability of recession in developed countries. Latin America and other developing economies are still at risk, the IMF said.
Maurice Obstfeld, chief economist at the IMF, stopped short of calling the latest slowdown a recession, but said that a full recovery had not yet been achieved.
"Six years after the world economy emerged from its broadest and deepest post-war recession, a return to robust and synchronised global expansion remains elusive," he said.
Source: Caboolture News