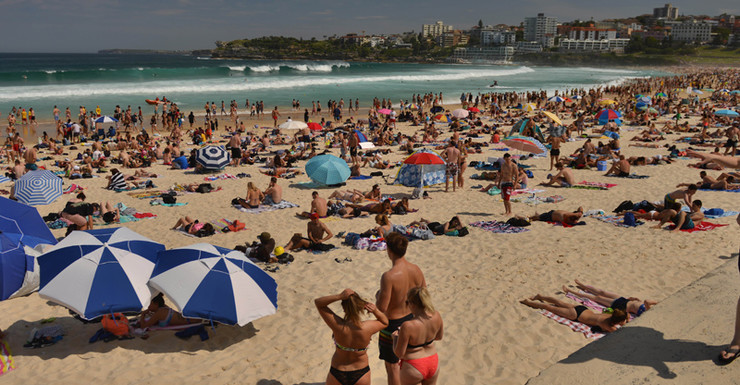 Brace yourself Australia, its about to get really hot
Bureau of Meteorology readjusts its forecast as October brings above average temps.
The weather bureau has warned that Australia is about to get hotter and drier than predicted, with higher than average temperatures forecast for October through to December.
Bureau of Meteorology (BOM) climate prediction manager Andrew Watkins said Australia had already experienced high temperatures, with Melbourne about 16 degrees above the average on Monday.
People across the country hit the beaches this week, while cafes and pubs were filled with patrons basking in the much-welcomed sunshine.
According to the bureau, October to December was likely to be drier than average across the southeast and northeast of the country, with parts of central Australia likely to be wetter than average.
Warmer days and nights are likely for Australia, except the northern tropics.
Dr Watkins said the sudden onset of warm weather was due to a strong El Nino weather cycle in the Pacific Ocean, coupled with a separate weather event, an emerging positive Indian Ocean Dipole (IOD), which affects Australias climate and rainfall.
He said the current El Nino was tipped to rival the monster El Nino event of 1997.
What were seeing right now is exceptional. Clearly were seeing a lot of records for early heat records, he said.
We could probably attribute this to the El Nino event that were seeing at the moment, those clear skies, dry soil, not much rain about to keep things cool and that weather, that hot weather, now feeding in over southeastern Australia.
Indeed the chance of increase bushfire risk goes up as well.
Bureau statistics showed the southeast quarter of Australia indicated less than a 20 per cent chance of exceeding median rainfall for October.
Meanwhile, September rainfall across the country was the third-lowest on record, providing plenty of fuel for the sudden onset of the bushfire season this week.
This was combined with very low rainfall during the past 12 months in the southwest of Western Australia, southeast South Australia and most of Victoria.
Authorities on Tuesday urged the nation to prepare now for a potentially long, hot, dry and dangerous fire season.
Victoria Emergency Management Commissioner Craig Lapsley said October weather would cause the state to dry out, fuelling the potential for more bushfires.
It is time for Victorians to be very clear about what they need to do, the practical steps to clean up and do their fire prevention works, Mr Lapsley said.
El Nino is often associated with drier-than-usual conditions across eastern and northern Australia.
It also brings a lower chance of cyclones to the north, but the risk of fire in the southeast is higher as are more extreme temperatures everywhere.
Dr Watkins said the El Nino was expected to peak about midsummer but until then more high temperatures were likely for large parts of Australia.
Heres what its going to look like at your place this week
Australian Capital Territory and New South Wales
A low pressure trough over far northeastern NSW will move west during Thursday and Friday as a strong high pressure system moves over the the southwestern Tasman Sea strengthening a ridge over the northeast.
The next cold front was expected to cross the state during Sunday and Monday.
Northern Territory
A ridge of high pressure along the Queensland coast is directing an east to northeast flow over much of the Northern Territory.
A trough moving east through central Australia will bring a brief moderate to fresh southeast change to the south of the Territory, though very little cooler air is expected.
Queensland
A high pressure system near New Zealand extends a ridge along the east coast of Queensland.
The ridge will gradually weaken through to late Wednesday, when it will strengthen once more as a new large high moves east across southeastern Australia and into the Tasman Sea on Thursday.
Tasmania
A cool west to southwesterly airstream weakens over Tasmania as a high over the Bight extends a ridge over the state.
A second high centre will form to the east of Tasmania early Thursday, while maintaining a ridge over the state.
The ridge will weaken on Friday as a trough develops over the north of Tasmania, extending over the remainder of the state on Saturday.
An area of low pressure remains near Tasmania on Sunday as a cold front approaches the west that evening.
A high pressure system south of the Bight is drifting eastwards and will be centred just west of Tasmania overnight Wednesday.
The high will then become centred over the Tasman Sea on Thursday, but a ridge will extend across Tasmania to waters south of the Bight.
A trough of low pressure will then develop over Victoria on Friday, Saturday and Sunday.
South Australia
A high 1038 hPa well south of the Bight will move eastwards to be over the Tasman Sea later Thursday.
A trough of low pressure is expected to develop over the west of the State on Friday and move slowly eastwards across the State during the weekend.
Western Australia
North WA:
A surface trough lies across the base of the Kimberley and will extend across inland parts of the Pilbara from Thursday.
Southern and Central WA:
A high pressure system south of the state is moving east.
A surface trough will develop near the west coast today, deepening on Thursday and Friday before starting to move eastwards on Saturday.
Source: The New Daily