101.5 FM Gig Guide
as heard on Saturday Cruise-With Nikki The Gig Guide Show 3-6pm every Saturday... Also Contributions by Lucy from Wednesday Nights from 10 pm, And Howlin' Jack Focussing on Cab Sports Club and Rockabilly Gigs
Lucy !!!!!!!!!!!!! Lucy Sonter's Website


Nikki !!!!!!!!!!!!!
FRIDAY 23 JUNE 2017
"Wild Card Band" - Wild Card with their soulful three-part harmony and extensive, diverse mix of rock, reggae, country, ballads and pop there is something for everyone. @ Caboolture R.S.L. Friday 23rd June 8pm.
Wild Card Band


"AUSTRALIA'S FAVOURITE SONS" - An epic musical salute to Australia's number one Rock Legends: MICHAEL HUTCHENCE – BON SCOTT & JIMMY BARNES. This three-hour stage spectacular captures the sounds and excitement of Australia's greatest rock front men. Featuring all the timeless rock and roll classics that defined- Michael Hutchence / INXS, Bon Scott / AC/DC & Jimmy Barnes / Cold Chisel as; Australian rock superstars.
Australia's Favourite Son's tour is much more than a concert; it's the ultimate rock experience. The cast of multi-talented & internationally respected musicians bring to life a stage show unlike any other- Featuring all the "Worldwide hits & timeless classics" of Michael Hutchence, Bon Scott & Jimmy Barnes. So break out your inner rock god as we pay homage to "Australia's Favourite Sons". Victoria Point Sharks Club Fri 23 June 8pm.
Australia's Favourite Son's


"DIED PRETTY & RADIO BIRDMAN" - The names Radio Birdman and Died Pretty evoke many images for those who know and love Australian independent music. Now, in what just might be this year's most exciting Australian musical events, both bands will perform in a series of one off double headline shows across the land. The Tivoli Brisbane Fri 23 June. Doors open 7pm.
Radio Birdman and Died Pretty


"CHEAP FAKES" - As 2017 rolls out, Cheap Fakes are preparing to bring great music and good vibes directly to your ears with brand new tracks in what is going to be their biggest year yet. Touch n Go is the first offering from their latest album, released on 20th May 2017. Emerging triumphant from 2016 as Brisbane's best blend of massive soul-soaked, brass-fuelled pop, funk, and ska, Cheap Fakes are ready to keep bringing their unique and energetic music to masses of listeners and live audiences worldwide.
The free-wheeling, six-headed hydra of Cheap Fakes is a ready-made party absolutely primed to provide the best of times. Wooly Mammoth Brisbane Fri 23 June 8:30pm. https://woollymammoth.oztix.com.au/default.aspx?event=72894&utm_source=JSRenderFeed&utm_medium=Website&utm_campaign=JSRenderFeed&utm_content=JSRenderFeed&Term=1 & Solbar Maroocydore Sat 24 June 8pm.
Cheap Fakes


SATURDAY 24 JUNE 2017
"The Angels, Midnight Oil and Divinyls Show" - A tribute to three of the most incredibly energetic and dynamic rock bands ever to grace the live stage, The Angels, Midnight Oil and The Divinyls. The night will consist of hits galore, including Beds are Burning, Blue Sky Mine, Power and the Passion and everything else you expect from the Oils and then get ready to Touch Yourself and rage with the Boys in Town and or take a little trip into the world of Science Fiction with Chrissy and the Divinyls.
No chance to take a break because the evening will wrap up with a non stop trip into Aussie rock history with the incredible Angels. Everything from Take a Long Line, Am I Ever Gonna See Your Face Again, Marseilles to Coming Down, We Gotta Get Outta This Place and heaps more. Noosa Surf Club, 69 Hastings St, Noosa Heads. Saturday 24 June 2017 9:00pm.
The Angels, Midnight Oil and Divinyls Show


"Drew McAlister" - Drew McAlister is renowned as one of Australia's most talented award winning singer/songwriters he is a recipient of 4 Golden Guitars and is at the pinnacle of his solo career. On the verge of a new album release Drew has heeded the call from his loyal fans and will bring his authentic and high energy show to Queensland. A master of the live show Drew's songs speak to his audience. He is a straight up guy telling his stories his way from his heart and leaving his audience breathless. Caboolture Sports Club Sat 24 June. Free show. 7:30pm.
Drew McAliste


"BIG SCARY" - As Big Scary lay to rest their third LP Animal, they have announced their biggest headline shows to date as a send off. After launching the current, glorious live show at Laneway Festival in 2016, plus a national run of dates and festival appearances throughout the year. Big Scary will now unleash the 5-piece line-up across some of the best theatres Australia has. The Tivoli Brisbane Sat 24 June. Doors open 7:30pm.
Big Scary


SATURDAY 24 JUNE 2017
"Peter Paki" - brings his Polynesian show to Redcliffe RSL! A cultural experience of entertainment which brings to you the exotic variety of dancers and cultures from the exciting and romantic South Pacific Islands. This truly spectacular show can also involve audience participation and is guaranteed to exhilarate and thrill audiences everywhere. Sat 24 June 8pm.
Peter Paki


"KRUSH" - Ever wanted to experience a Vegas quality cover band in its full glory, right here in Australia? If so, KRUSH is the band for you! With rockin' front-woman, Nikki Canale (direct from the stages of Las Vegas) heading up this 5-piece gang, this band plays to impress! KRUSH's versatile set list will take you on a journey through all your favourite songs and eras!
One minute you'll be showing off your best knee slide to some AC/DC, and the next you'll be twerking the night away to P!NK and Bruno Mars! This group of charismatic musos combines their talents with incredible energy, a sexy vibe and a rockin' set list. KRUSH sets itself apart by giving its audience a genuine taste of "Vegas-quality" entertainment. If you want to see something truly awesome, just wait until they bring out their gorgeous, choreographed dancers to add a stunning visual element to their music! Caloundra R.S.L. Sat 24 June 9pm.
Krush


SUNDAY 25 JUNE 2017
"Big In Japan: A tribute to Tom Waits" - Featuring cover sets from the following Brisbane royalty: TYRONE NOONAN (GEORGE), KARL S WILLIAMS, ROHIN JONES (THE MIDDLE EAST), THE LONG JOHNS & THE SHAMBOLICS. All your favs from the great Tom Waits. Lefty's Old Time Music Hall 15 Caxton Street, Brisbane. Sun 25 June 6pm.
Big In Japan: A tribute to Tom Waits


THURSDAY 29 JUNE 2017
"DISNEY ON ICE: FROZEN" - Enter a fantastical winter wonderland beyond imagination at Disney On Ice presents Frozen! The heartwarming Academy Award® winning tale you love is now LIVE and skating into your town. Join royal sisters Anna and Elsa, the hilarious snowman Olaf, Kristoff, and Sven as they journey to discover that true love is the most magical power of all! Hosted by Mickey and Minnie, with special appearances by beloved Disney Princesses and characters from favorites like Disney Pixar's Toy Story, Finding Nemo and Disney's The Lion King, this unforgettable celebration of love and friendship will leave your family with memories to last a lifetime.
CHILD POLICY: Children under 23 months are admitted free provided they sit on a parent or guardian's lap. Children over 2 years old require a ticket. On sale now through Ticketek. Do not buy from unauthorised resale scalper websites. You risk buying invalid or fraudulent tickets. Brisbane Entertainment Centre Thurs 29 June – Sun 2 July.
Disney On Ice : Frozen


FRIDAY 30 JUNE 2017
"The Smokin Crawdads" - The Smokin' Crawdads can kick any crowd into party mode with their good time, pumped up repertoire, from gutbucket blues through to Memphis-soaked swamp rock. @ Caboolture R.S.L. Friday 30th June 8pm.
The Smokin Crawdad


"KILLER QUEEN EXPERIENCE" - Killer Queen the Brisbane-based band paying homage to Britain's regal rock quartet QUEEN are "guaranteed to blow your mind, anytime". With fully-costumed, superb musicianship and with all the cast resembling the original members of Queen, you will be forgiven to think you're in the presence of the real band. John Blunt is amazing as Freddie Mercury. Villa Noosa Hotel Fri 30 June 8pm.
Killer Queen Experience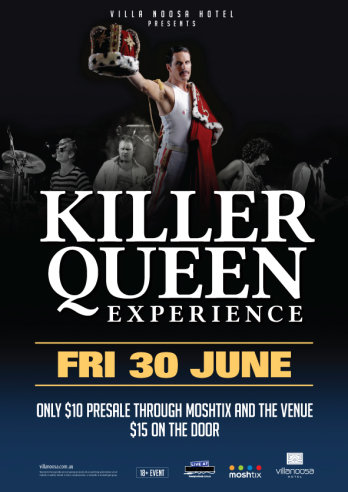 SATURDAY 1 JULY 2017
"The Allan Cameron Band" - is both a dynamic and visually exciting show that will leave the audience totally entertained. @ Caboolture R.S.L. Saturday 1st July 8pm.
The Allan Cameron Band


"Alive: The Pearl Jam Show" - Presenting Alive, the Australian tribute to one of the most iconic bands in rock history – Pearl Jam! Pearl Jam has not only survived being the most popular band of the 90's grunge explosion, but has even thrived in its aftermath to become one of the most influential and enduring rock acts of all time. All the members of Alive are true Pearl Jam fans and bring decades of cumulative musical experience to a show that is backed by awe inspiring sound and lighting. Eddie Vedder's rich baritone growl is brought to life by vocalist Mark Hennessy and his commanding stage presence truly recreates the epic experience that is Pearl Jam live. Caboolture Sports Club, Sat 1 July 8:30pm.
Alive: The Pearl Jam Show


"Ted Mulry Gang" - It was 40 years ago today… Jump In My Car… Anniversary Celebration.TMG, the iconic seventies pub rock band, are hitting the road with the "This ones for Ted" tour. This will see all original members together for the first time in 25 years. With the passing of Ted Mulry in 2001 it is only fitting that his younger brother Steve fill his shoes. Steve sang 2 songs with the band at the Gimme Ted benefit in 2001 and got the thumbs up from big brother.
As Ted was also the bass player the band has acquired the services of original AC/DC bass player and good friend Mark Evans. Drummer Herm Kovac announced, "The band is excited to do some shows and we feel Steve and Mark are the perfect fit." The band had a string of hits in the seventies with Jump In My Car hitting the number one spot forty years ago. Other hits like Darktown Strutters Ball, Crazy, My little Girl, Jamaica Rum, Heart of Stone and many others will feature in what promises to be a great night of Rock and Roll. Norths Leagues Club Sat 1 July.
Ted Mulry Gang


"Scarborough Originals" - The East Coast Originals is a not for profit community event that runs original live music events in communities, by the community, for the community. Saturday July 1 will see four original acts take to the grass roots stage and perform from 1pm to a family friendly, all ages day in the park. Redcliffe Rotary Sunrise will be hosting a BBQ and face painting will be available.
The event is funded through the power of donations, community contribution and fundraising. They sell raffle tickets to cover the costs of the event and paying the bands. This month will see Phil Barlow & The Wolf headline supported by Jason Daniels Band and Hannah Jane. One extra act will be announced shortly. See you there! Invite the whole family, your mates and even bring Nanna down for an arvo of live music in the park.
Scarborough Originals