101.5 FM Gig Guide
as heard on Saturday Cruise-With Nikki The Gig Guide Show 3-6pm every Saturday... Also Contributions by Lucy from Wednesday Nights from 10 pm, And Howlin' Jack Focussing on Cab Sports Club and Rockabilly Gigs
Lucy !!!!!!!!!!!!! Lucy Sonter's Website


Nikki !!!!!!!!!!!!!
EVENT:
"THE BODYGUARD THE MUSICAL" - The Bodyguard, the award-winning musical based on the smash-hit film starring Whitney Houston and Kevin Costner has been described as 'Unmissable – A Must See' (Limelight) and "Fabulous...A Triumph' (Daily Review). Former Secret Service agent turned bodyguard, Frank Farmer, is hired to protect superstar Rachel Marron from an unknown stalker. Each expects to be in charge – what they don't expect is to fall in love.
Featuring all of Whitney Houston's greatest hits "Queen of the Night", "One Moment in Time", "Saving All My Love", "Run To You", "I Have Nothing", "Greatest Love of All", "I Wanna Dance with Somebody" and one of the greatest hit songs of all time – "I Will Always Love You". Starring Australia's own Paulini, Kip Gamblin and Prinnie Stevens, The Bodyguard is a worldwide live theatre sensation you won't want to miss! Lyric Theatre QPAC from 19 July to 13 Aug.
The Bodyguard - The Musical


THURSDAY 20 JULY 2017
"TROY CASSAR-DALEY 'THINGS I CARRY AROUND'" - There's a singular line towards the middle of Troy Cassar-Daley's majestic new album, Things I Carry Around that snags you like a sprig of barbed wire. "I live the tales that I tell." This lies at the epicentre of what makes Troy probably this country's pre-eminent and most important balladeer. He writes and sings about what he knows, without frill, without varnish, with a purity that somehow makes his experiences universal.
Troy is proud to present his new album Things I Carry Around live in concert with a very intimate presentation of the songs collated for the album, which is like opening up a large suitcase and having memories and family pictures and sounds and scents and tears and laughter and heartbreak all tumble out around you; a case full of life in all its variations. The songs were inspired through the process of gathering stories, the ones Troy's fans have been waiting to hear – his own – in the book Things I Carry Around, published by Hachette Australia in August 2016.
Across his 30-year career, Troy Cassar-Daley has collected a slew of awards, including four ARIA's, 32 Golden Guitars, two APRA Song of the Year Awards, nine Deadlys and four CMAA Entertainer of the Year Awards. Troy has sold in excess of 450,000 albums and has received gold and platinum records. The Things I Carry Around tour will be an unforgettable not to be missed concert experience for Troy Cassar-Daley fans. Kedron-Wavell Services Club Thurs 20 July 8pm. https://www.kedron-wavell.com.au/kwscevent/troy-cassar-daley-the-things-i-carry-around/ & Nambour R.S.L. Fri 21 July 8:40PM.
Troy Cassar-Daley: Things I Carry Around


FRIDAY 21 JULY 2017
"Chisel Revived: The Evolution Of Jimmy Barnes" - Australia's number one Tribute to the Legends that are Cold Chisel & Jimmy Barnes. For over three decades, the songs of Cold Chisel and Jimmy Barnes have dominated the airways with their powerful brand of Aussie Rock.
So many Classic hits from Khe Shan, to which most Aussie's recognise jokingly as our national Anthem, to When the war is over, the driving power of Working Class Man to the R & B swing of Higher and higher, collectively Cold Chisel and Jimmy Barnes have given the public some of the best music ever heard on Australian airways. And now finally Chisel Revived/Barnsey Revisited faithfully reproduce a huge cross section of these unforgettable songs, in a live show that is second to none.
Fronted but the searing vocals of Carter Roser, you will feel as if Cold Chisel has indeed been revived. Carters backing band feature top class musicians who diligently reproduce the unique sounds of Cold Chisel and Jimmy Barnes. Coolum Hotel, 1822 David Low Way, Coolum Beach, Friday 21 July 10:00pm. Free show.
Chisel Revived: The Evolution Of Jimmy Barnes


"We Want More 70s Glam Rock Show" - Wild glittering outfits, outrageous platform boots, rock star hair, all the hits you know and love.With authentic costumes and music played 100% live. "We Want More" is the full tribute to the spectacular Seventies, an unforgettable journey into the past.
An exciting, fun show based on the music and image of the big movers and shakers of this increasingly popular decade. @ Caboolture R.S.L. Friday 21st July 8pm.
We Want More 70s Glam Rock Show


"WOMEN OF ROCK" - Featuring the music of Pat Benatar, Deborah Harry, Stevie Nicks, Chrissy Amphlett, Tina Turner, CHER, Madonna, Joan Jett, Gloria Gaynor, Suzi Quatro, Cyndi Lauper and many more. What a great night of powerful women. We are women, hear us roar!! Free show. Victoria Point Sharks Club Fri 21 July 8pm.
Women Of Rock


"FRENZAL RHOMB W/ TOTALLY UNICORN" - Hey good news everyone: Frenzal Rhomb have made a new album, and booked a tour to go with it! Yep! Frenzal Rhomb, the most hospitalised band in the world (Seriously, everything from broken drumming arms and detached guitar-playing retinas to an actual pig-borne tapeworm in the lead singer's brain), are releasing their ninth full-length punk rock record. And just like a ninth child to a religious family, they're really getting good at it.
Recorded once again by Bill Stevenson (Descendents, Black Flag) and Jason Livermore at The Blasting Room in Fort Collins, Colorado, Hi-Vis High Tea is a concept album about a whole bunch of different concepts. 20 songs clocking in at just over 30 minutes, but what they lack in length they make up for in brevity. This is an 18+ event. The Triffid Newstead Fri 21 July 8pm.
Frenzal Rhomb with Totally Unicorn


SATURDAY 22 JULY 2017
"PINK / GAGA TRIBUTE" - Raise your glass and marry the night in this spectacular MONSTER Tribute event. A tribute to 2 of the most influential female artists of all time. Pink is the loveable daredevil, rock chick with a playful down to earth nature and Lady Gaga is the gothic pop dance diva.
Each tribute is an event in its own right both include the pageantry and majesty of the original artists as well as there incredible array of hit songs, a magnificent live band, amazing vocals, gorgeous costumes and sensational dance choreography a true tribute in every sense of the word. Capalaba Tavern Sat 22 July 8pm.
Pink - Lady Gaga Tribute


"DOUG PARKINSON: TRIBUTE TO JOE COCKER" - Australia's greatest soul voice Doug Parkinson presents the ultimate tribute to Joe Cocker. A night of soul and rock classics, the electric current runs high, generated from the very talented 8 piece band and of course the powerful and unique voice of Doug Parkinson.
Joe Cocker was an irresistible force that combined a love of American soul music with standout interpretations and depth of feeling, terms often used to describe the soulful smoky voice of Australian singing legend Doug Parkinson. A highlight of Doug Parkinson's show includes his own hit records, this includes the masterful and iconic hit record Dear Prudence, and his very own interpretations of other legendary artists Ray Charles, Stevie Wonder, Marvin Gaye, Michael McDonald, the Beatles and The Great American Song Book, just to name a few.
Doug Parkinson's band comprises some of Australia's most admired musicians, a crack rhythm section of the finest. If you love Joe Cocker's voice and songs you will not want to miss this ultimate tribute. The Events Centre Caloundra Sat 22 July 7:30pm.
Doug Parkinson: tribute to Joe Cocker


SATURDAY 22 JULY 2019
"Dudes of Doo Wop" - The Brisbane based three piece band with keys, guitar, drums and three smooth vocals, specialising in big harmonies made famous in the 50's and 60's. @ Caboolture R.S.L. Saturday 22nd July 8pm.
Dudes of Doo Wop


"LIOR" - Renowned for his beautiful voice and exquisite compositions, Lior burst onto the Australian music scene in 2005 with his stunning Aria-nominated debut album Autumn Flow. Since then he's toured the world, collaborated with Nigel Westlake on the song cycle Compassion, written for the theatre and performed in the musical Fiddler on the Roof.
Now with his fifth studio album set to be released, this seasoned performer, alongside a string quartet, will serenade audiences with stunning songs that radiate truth and sincerity. The Old Museum, Gregory Tce. Brisbane Sat 7:30pm.
Lior


SUNDAY 23 JULY 2017
"DUSTIER THAN EVER: TRIBUTE TO SLIM" - Dustier Than Ever is a 90 minute show which has been presented over 100 times in the last 5 years with the permission of Joy McKean, Slim Dusty's wife. Performed by The Chris Cook Band, a popular, eclectic, country 3 piece band based in northern NSW. This is an authentic performance in which Chris Cook gives an excellent coverage of songs based on his familiarity with Slim Dusty.
He has recently performed by invitation with Slim Dusty's daughter Anne Kirkpatrick and Slim Dusty's Band -The Travelling Country Band. There is a devotion, admiration and love for the songs of Slim Dusty which this presentation captures. The Events Centre Caloundra Sun 23 July 2pm.
Dustier Than Ever : Tribute To Slim


FRIDAY 28 JULY 2017
"Simply Three" - Simply Three with Michael whitmore, Ofelia Guizzon & Lawrie Dillon is a very classy musical trio featuring fabulous vocal harmonies and a surprisingly wide range of musical styles. @ Caboolture R.S.L. Friday 28th July 8pm.
Simply Three


"LITTLE MIX" - The world's biggest girl group LITTLE MIX are thrilled to announce that they're bringing their brand new arena tour to Australia. The Glory Days Tour 2017 supported by Zoe Badwi. Perrie Edwards, Jesy Nelson, Leigh-Anne Pinnock and Jade Thirlwall formed as Little Mix in 2011. Since then they have without doubt become one of the biggest pop acts on the planet, racking up 12 million global sales and three UK #1 smash hits. UK #1 album Glory Days is the quickest selling album in the UK charts by a girl group since Destiny's Child's Survivor in 2001. Brisbane Entertainment Centre Fri 28 July 7:30pm.
PIC -
Little Mix


"THE SCREAMING JETS" - Following the release of their critically acclaimed, Top 30 album 'Chrome' and the subsequent Music Max Live Album Launch and national tours in May & October 2016, Australia's hardest working rock'n'roll band, The Screaming Jets have announced they're back to deliver their firebrand live shows. 'Chrome' reached #2 on the Independent Music charts, #10 on the ARIA Australian Artist Charts and #30 on The ARIA Mainstream Charts, and has continued to sell solidly on the back of the bands killer live shows. Villa Noosa Hotel Fri 28 July 8pm.
The Screaming Jets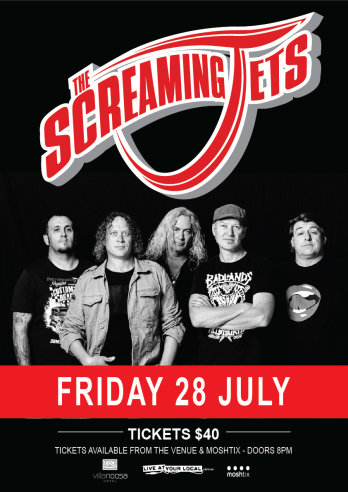 "ROCK 4 KIDS IN SUPPORT OF CAMP QUALITY" - Aussie Pride in conjunction with Caesarstone Australia are working to support Camp Quality in raising funds for Aussie kids aged 0-13 who are fighting cancer. This is a "one show only" event and just by attending you are changing the lives of these children and their families. Enjoy a great night of Aussie music and help these kids in the process. The Triffid Newstead Fri 28 July 7:30pm.
Rock 4 Kids in support of Camp Quality


SATURDAY 29 JULY 2017
"The Legends of Rock n Roll Tribute Show with Issi Dye" - Put your dancing shoes on and get ready for a fun-filled night with Aussie music icon Issi Dye! Relive the glory days of Rock n Roll with hits from the greats! Elvis, Buddy Holly, Jerry Lee Lewis, Johnny Cash & Johnny O'Keefe! Redcliffe R.S.L. Sat 29 July 8pm.
The Legends of Rock n Roll Tribute Show with Issi Dye


"The Rockin Bodgies" - Crowd favourites the Rockin Bodgies are the five piece 60's and 70's style group, playing good, danceable Rock n Roll with a healthy influence of Rhythm & Blues. @ Caboolture R.S.L. Saturday 29th July 8pm.
The Rockin Bodgies


"Livin' on a Prayer - A Tribute to Bon Jovi" - This awesome band pays homage to all the greatest hits from one of the world's Ultimate Bands! Enjoy this dynamite show full of high octane rock anthems such as Bad Medicine, Dead or Alive, You Give Love a Bad Name, Blaze of Glory and arguably the greatest rock anthem of all time, Living on a Prayer. Rock out to Livin' on a Prayer, the Bon Jovi Tribute Show for a truly wowing show with accomplished musicians and rock music that will leave you screaming for more! Free show. Caboolture Sports Club Sat 29 July 8:30pm.
Livin' on a Prayer - A Tribute to Bon Jovi