101.5 FM What's On with Nikki
as heard from 12-3 pm every Saturday

Click here to jump to future major concerts with tickets available (bottom of the page).
MAJOR EVENT:
"Brisbane Comedy Festival" - Australia's fastest growing comedy festival, Brisbane Comedy Festival, has grown into a multi-venue extravaganza, bursting at the seams to host a hand-picked selection of the funniest folk in the country. Held from Fri 22 Feb – Sun 24 Mar 2019 at Brisbane Powerhouse, Brisbane City Hall and SunPAC, Brisbane Comedy Festival will play host to one-liners, whimsy and mockery from more than 70 of the most hilarious national and international comedians. From stand up to improv and sketch comedy, we've got your tastes covered, plus we'll shine a light on the best new talent, here and now! In 2019, Brisbane Comedy Festival celebrates 10 hilarious years of laughs with an even bigger and better line-up than ever before. Join us for night after night of side-splitting fun.
FRIDAY 22 MARCH 2019
"Rock of Nations" - Rock of Nations is South East Qld's premier Classic Rock Show, performing all the songs you forgot you loved, from the UK, USA & of course Australia!!!!
An explosive band with a visually striking stage set, Rock of Nations plays 3 sets, one from each country, highlighting the classic tunes we all know and love. NO LOVE SONGS HERE PEOPLE!!!.
Rock of Nations keeps the dance floor pumping all night!!!!
Dolphins Leagues Club, Redcliffe Fri 22 March 9pm. Rock of Nations
"James Reyne" - Fans of the acclaimed singer songwriter will be treated to an array of hits, as he delivers material from the sun and surf tinged catalogue of Australian Crawl to his vast array of solo material and some special treats thrown in for good measure.
Eatons Hill Hotel - Grand Ballroom| 18+ | Friday 22 March. James Reyne
"BON JOVI: LIVIN ON A PRAYER" - Bon Jovi are without doubt one of the biggest super groups in music history with hits spanning 3 decades since 1984. They are Grammy award winners and in 2010, were inducted into the Rock and Roll Hall of Fame.
They have sold over 120 million albums worldwide have produced 13 albums with some 25 singles charting. Livin on a Prayer is a brilliant homage to the superstar stadium rockers from New Jersey. All the hits and favourite album tracks faithfully reproduced in a dynamite show full of high octane rock anthems. Bad Medicine, Dead or Alive, You Give Love a Bad Name, Blaze of Glory and arguably the greatest rock anthem of all time, "Living on a Prayer".
A fantastic stage show, all the searing vocals, mind blowing guitar solos , fabulous harmonies and unmistakable punchy rhythms are all featured in this show, executed by outstanding musicians dedicated to bring you the true Bon Jovi excitement.
Victoria Point Sharks Sporting Club, Fri 22 March 8pm. Free Show. Bon Jovi: living On A Prayer
"Mr Q" - Mr Q are BACK at Bramble Bay Bowls Club, playing to you LIVE and FREE on the Our House stage! Rocking all your favorites hits from the 70's to 90's! Fri 22 March 6pm. Mr Q
"SATISFACTION: A TRIBUTE TO THE ROLLING STONES" - Featuring; Pete Cullen & The Hurt, Port Royal, Ruby Gilbert, Mercury Sun, & SPECIAL GUESTS TO BE ANNOUNCED.. Each band will play 4 Rolling Stones covers and 2 original songs.
The Triffid, Newstead. Fri 22 March 8pm. Satisfaction: tribute to Rolling Stones
"Masters of Rock" - If you are looking for the ULTIMATE ROCK TRIBUTE SHOW, you found it! Masters of Rock is tribute extravaganza to Deep Purple | Led Zepplin | Gun's & Roses | The Doors & AC/DC.
It's a "One of a Kind" 4 hour entertainment package no expense spared in recreating the sight, sound & excitement of the world's greatest rock bands. Don't miss this spectacular FREE SHOW live at Bribie RSL on Friday 22 March, from 8:30pm. Masters of Rock
SATURDAY 23 MARCH 2019
"The Hillbilly Goats" - Renowned for their entertaining live shows. The Hillbilly Goats will be bringing their mountain music to the Palmwoods Hotel for a one massive night.
Free show. Sat 23 March 8:30pm. The Hillbilly Goats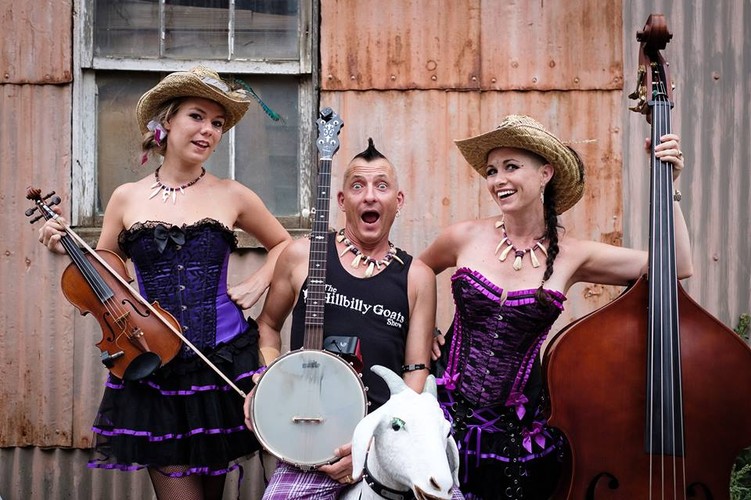 "Jailbreak Festival" - In March 1989, Prisoners performed the single largest break out in Queensland's Prison History. Using a departing Laundry truck for gate access, thirty prisoners made a dash for freedom.
Eight prisoners, through gun fire from the tower made The Great Escape! Thirty years later, The Jailbreak Festival is coming to Boggo Road Gaol! With an alt rock line up that celebrates Brisbane's good, bad and downright ugly,
it's time to throw aside your corporate ties and put on your best boogie boots. Featuring: The Jensens, Great Såge, Bad Sext, Two and a Half Elephants, Shadows Without Substance, The Plane Sailors, Gabrielle Kerr and more. Jailbreak Festival is a licensed event that is strictly 18+ Boggo Road Gaol, Annerley Rd, Dutton Park, Saturday 23 March 2019 6:00pm – 11:00pm. Jailbreak Festival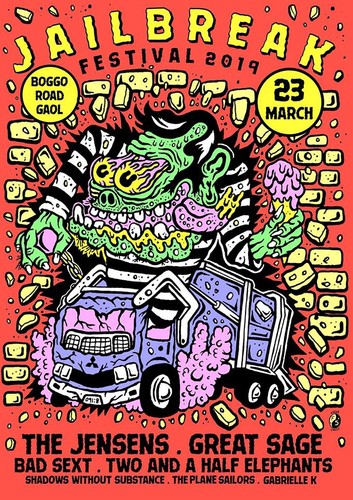 "The Bee Gees Show" - Don't miss this free 2 hour show which will be recreating a world class show with the greatest hits from the Bee Gees from 1966 to 2001! Caboolture R.S.L. Saturday, March 23, 2019 at 7:45 PM. The Bee Gees Show
"SLUMBERJACK" - Following the release of their emotionally-rich, raw collaboration, "Daggers" with Machine Age, SLUMBERJACK will embark on the duo's biggest headline tour to date taking in the major Australian capital cities.
'Daggers' is the first taste from SLUMBERJACK's upcoming SARAWAK EP which was conceived and produced when the duo sought a respite from the relentless touring cycle they had found themselves in and retreated to the natural beauty of Morgan's homeland of Sarawak in Borneo, Malaysia.
Live at The Tivoli, Brisbane. Sat 23 March. Doors open 7:30pm. Slumberjack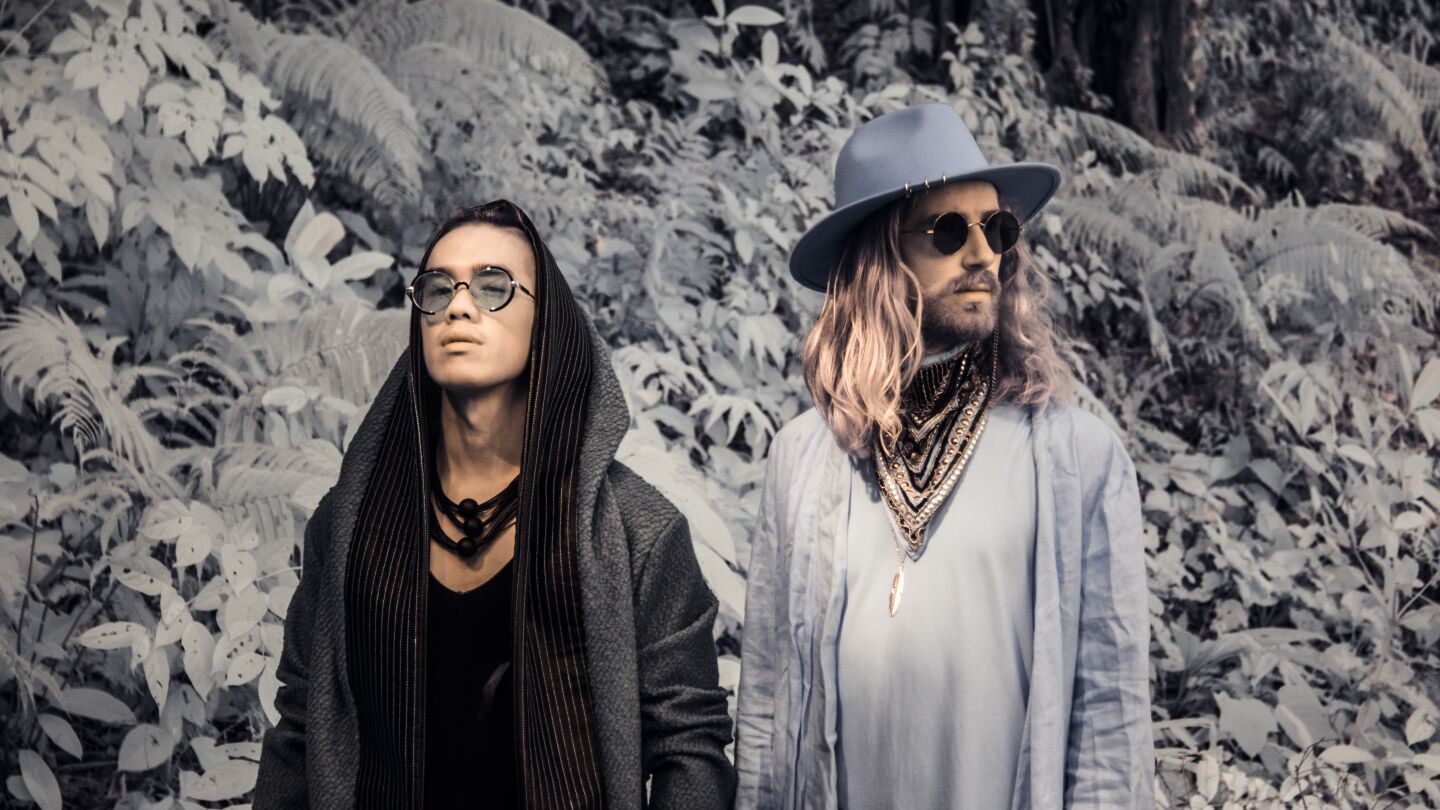 "The Sapphires" - The Sapphires is one of the Australia's best-loved stories. Winning multiple awards as a play, film and soundtrack album, there was one challenge left; to undertake a national tour of Australia.
Bringing the raw energy, fun and emotion of this story directly to stages like Redcliffe and across the nation. Four young women from regional Australia, who like singing country music, suddenly get the chance to change their tune, their clothes and their lives.
Wearing uniforms of sequins, armed only with microphones they find themselves trying to spread joy in the hell that is the Vietnam War. The Sapphires is a funny, heart-warming tale inspired by the true story of writer Tony Brigg's mother.
It tells of the incredible journey of a singing group of four Yorta Yorta Women, who sing Motown soul hits against the backdrop of personal change and massive social upheaval. It is an energetic, fun and engaging play that affirms life and the realisation of dreams. Redcliffe Entertainment Centre, Downs Street, Redcliffe. Two shows - Saturday, 23 March 2019 | 02:00 PM & Saturday, 23 March 2019 | 07:30 PM. The Sapphires
"Little Big Fest 2019" - Get ready for Little Big Fest 2019 another epic night of blues rock headlined by the Mason Rack Band and featuring Little Billie, Mojo Webb, Felicity Lawless and Jake Hoskins. All for just $20... Doors open 5:30pm for a 6:00pm start! Sat 23 March @ The Shed, Aussie World. Little Big Fest 2019
"Killer Queen Experience" - Formed in 2003, The Killer Queen Experience has risen from a Local Brisbane based Queen Cover Band to an International Touring Show and is the most sought-after Queen Tribute Act in the World today. You can see them live at The Dag Pub. Sat 23 March 8pm. Killer Queen Experience
SUNDAY 24 MARCH 2019
"LEZ ZEPPELIN" - Respected American rock magazine SPIN called them "The most powerful all-female band in rock history" The Guardian of London called them "The best tribute band in the world" Joe Perry of Aerosmith said "I've never heard it done better" and when Jimmy page pays to see them perform cause "They play The Led Zeppelin music with such passion and extraordinary musicianship" you know you have a seriously good bunch of girls who will rock you and roll you harder than you've ever been rocked or rolled before.
Formed in 2004 by New York based guitarist Steph Paynes, the band has been driving audiences into a frenzy from Maddison Square Garden to opening Bonnaroo and major international festivals around the globe.
The Triffid, Newstead. Sun 24 March 7:30pm. Lez Zeppelin
MONDAY 25 MARCH 2019
"JOHN MAYER" - Seven-time GRAMMY winner John Mayer will be bringing his massive hits such as this year's "New Light," "Gravity," "Love on the Weekend," "Heartbreak Warfare," "Daughters," "Waiting on the World to Change," "Your Body Is a Wonderland," and many more to Australia in 2019 as part of his World Tour.
These "An Evening with John Mayer" concerts will feature songs spanning Mayer's entire recording career and mark his first tour down under since 2014. The singer/songwriter/artist has earned a record seven U.S. No. 1s on Billboard's Top Rock Albums chart and 25 entries on the Hot Rock Songs chart, the most for any solo artist.
Mon 25 March at Brisbane Entertainment Centre. He will be his own support act, so don't be late. John Mayer: 7.30pm-8.30pm - Interval: 8.30pm-9.00pm - John Mayer: 9.00pm. John Mayer
THURSDAY 28 MARCH 2019
"Michael McIntyre's Big World Tour" - Britain's biggest comedian, Michael McIntyre, is set to return to the stage with his eagerly awaited new tour and this time he is going global! Michael McIntyre's Big World Tour will see Michael perform to audiences across the world including Australia after a sell-out tour in 2016.
2016 saw the launch of Michael's own television show Michael McIntyre's Big Show on BBC One. The last series averaged over 6.5 million viewers and recently earned two BAFTA nominations including Best Entertainment Programme and Best Entertainment Performance for Michael himself.
The series has been commissioned for a third series, returning to BBC1 in the coming months. Two shows at Brisbane Entertainment Centre. Thurs 28 & Fri 29 March. Michael McIntyre's Big World Tour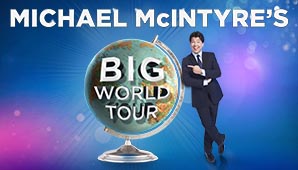 FRIDAY 29 MARCH 2019
"Wild Child; Tribute to Women of Rock" - Wild Child will be playing a night of absolute girl power. Party to the hits of Pat Benatar, Stevie Nicks, P!NK, Blondie, The Divinyls and many more!
Redcliffe leagues Club, Friday, March 29, 2019 at 8 PM. Wild Child; Tribute to Women of Rock
"Adam Hole Band" - With Adam giving a real and raw gutsy sound with foot stomping grooves the Audience are captured straight away. His awesome slide guitar, driving and experimental rhythms have been wowing audiences all over Australia.
He delivers songs with a powerful edge and an engaging stage chemistry that is captivating crowds from everywhere.
Playing live at Bramble Bay Bowls Club, Fri 29 March 6pm. Adam Hole Band
"Chisel Revived" - Presenting a dynamic homage to Australian music legends Cold Chisel & Rock Icon Jimmy Barnes. For over four decades, the songs of Cold Chisel & Jimmy Barnes have dominated the airways with their powerful brand of Aussie Rock!
A night of iconic classics: Keh Shan, Choirgirl, Cheap Wine, Working Class Man, Ride The Night Away & Die To Be With You Tonight. No cover charge – at Bribie R.S.L. Friday 29th March 8:30PM. Chisel Revived
"The Elton John Experience" - Travel back on a musical journey of over 40 years from one of the world's greatest song-writing partnerships of all time between Elton John and Bernie Taupin. Featuring iconic hits "Bennie and the Jets", "Crocodile Rock" and "Candle in the Wind", coupled with impressive costumes and expert piano playing - this is the ultimate Elton John experience.
Redcliffe Entertainment Centre, Downs Street, Redcliffe. Friday, 29 March 2019 | 07:30 PM. The Elton John Experience
SATURDAY 30 MARCH 2019
"The John Farnham Experience" - The John Farnham Experience is an exciting and faithful tribute to an Australian Icon. Michael Castle is a voice and tribute show so similar to John's you will be amazed! In fact it's a real 'John Farnham Experience'. Relive all his greatest hits: 'You're The Voice', 'Talk of The Town', 'Don't You Know it's Magic', 'Burn for You', 'Please Don't Ask Me', 'That's Freedom', Touch of Paradise…and much more! Some new ones and maybe even 'Sadie'!!!
This is a free show you won't want to miss! Redcliffe R.S.L. Sat 30 March from 7:30pm. The John Farnham Experience
"Pink & Lady Gaga : Tribute" - It's time to GET THE PARTY STARTED and RAISE YOUR GLASS to the loveable, daredevil rock chic …. P!NK in a tribute like no other. Add to that the hits of LADY GAGA in a spectacular, monster tribute event! See the live band, incredible costumes, amazing vocals and sensational dance choreography in this huge free tribute show.
Caboolture Sports Club, Saturday, March 30, 2019 at 8:30 PM. Pink & Lady Gaga : Tribute
"Park Vibes 2019" - Food, music, fun! These are three components of this Park Vibes event to be held on Saturday, 30th March 2019 from 3.00 pm to 8.00 pm. It will be held at the Pine Rivers Park, 125 Gympie Road, Strathpine and hosted by Visit Moreton Bay Region. It is a free event where they will be serving up an afternoon of live music and mouth-watering food options.
You are encouraged to bring along a picnic blanket and get yourselves comfortable for a stage program showcasing local talent while you dine under the stars. You will be able to take your pick from an array of food options and international tastes from popular food trucks and vendors. There will be four different flavour food zones for you to choose from. No need to spend time in the kitchen on this day! You can enter the licensed pop-up bar area and enjoy a refreshing craft beer or wine from this area.
A great line up of funky bands, ending with a fireworks display.
There will also be FREE rides located in the Kids Zone. For more information go to: Park Vibes 2019
"Anne-Marie" - Performing a string of headline shows in Auckland, Brisbane, Sydney, Melbourne, Adelaide and Perth across March and April, Anne-Marie is guaranteed to captivate audiences with her phenomenal voice and incredible live show. Her highly anticipated debut album Speak Your Mind (Warner Music), has cemented Anne-Marie's place as the UK's biggest-selling debut artist of 2018.
Charting in the ARIA Top 20, Speak Your Mind broke the UK Top 3, spending ten weeks in the Top 10 and is certified gold. Speak Your Mind features multiple hit singles including '2002' (2x Platinum) co-written with global megastar Ed Sheeran. Anne-Marie continues to delight fans across the globe with her incredible live shows and her 2019 Australia and New Zealand tour dates are not to be missed!
Eatons Hill Hotel in GRAND BALLROOM | ALL AGES | SATURDAY, 30TH MARCH. Anne-Marie
"Tower of Power" - American Soul-Jazz-Funk royaltyTower of Power, celebrating 50 years of funk, return to Australia in March 2019 with a critically acclaimed new album Soul Side of Town (Artistry Music/Mack Avenue), which earned them their first ever #1 Slot on the Billboard Jazz Chart. No strangers to a hectic touring schedule, the Oakland born 10-piece will be making a quick three-day trip to Australia in 2019 before returning home to continue on an anniversary tour that takes them across America.
The Tivoli Brisbane, Sat 30 March. Doors open 7:30pm. Tower of Power
"PEKING DUK: Biggest Tour Ever" - Australia's favourite duo Peking Duk return in 2019 with their Biggest Tour Ever. After selling out The WasteD Tour across Australian capital cities, Peking Duk will share the epic live show and reveal brand new music to 50,000 fans cross capital cities and regional areas.
Brisbane Showgrounds, Sat 30 March. Peking Duk: Biggest Tour Ever

Upcoming Shows... Tickets On Sale Now !!! Through these outlets Ticketek or TicketMaster
Upcoming Shows...
2019
Fleetwood Mac - BEC - Tue 20 Aug 2019 to Sat 24 Aug 2019
Hugh Jackman - BEC - Sat 31 Aug to Tues 3 Sept. 2019
Shawn Mendes - BEC - Wed 6 Nov 2019
KISS: End of the Road World Tour - BEC - Thu 28 Nov 2019
Sir Elton John: Farewell Yellow Brick Road Tour - BEC Wed 18 Dec 2019
2020


Other Acts in 2019
March 23. Sounds From The Vines Festival, featuring James Reyne, Baby Animals, Rose Tattoo, Pseudo Echo, Boom Crash Opera and The Colt Seavers Band. Stanthorpe Showgrounds.
April
Apr 18-22. Bluesfest,Byron Bay,
Apr 25-28. Way Out West(Amy Shark, Missy Higgins, Brett Eldredge, San Cisco) Winton,
May
May 16-19. Blues on Broadbeach (Canned Heat, Eric Bibb, Harts, The Bamboos, Tami Neilson)
July
Jul 16-18. Big Red Bash, Birdsville(Midnight Oil, The Living End, Kasey Chambers) Birdsville,
October
Metallica and Slipknot QSAC in Brisbane on October 29.
2020
January
Sat. Jan 18 Sir Elton John Farewell Yellow Brick Road Tour - Sirromet Wines – A Day On The Green Through Ticketmaster