101.5 FM Gig Guide
as heard on Saturday Cruise-With Nikki The Gig Guide Show 3-6pm every Saturday...
Click here to jump to future major concerts with tickets available (bottom of the page).
WEDNESDAY 18 JULY 2018
"BOTH SIDES NOW: CELEBRATING THE SONGS OF JONI MITCHELL" - Singer, songwriter, painter, poet, activist and voice of a generation, Joni Mitchell is an essential part of the soundtrack to the twentieth-century. She grew up with folk music in the '60s, she railed against injustice in the '70s, she put feelings into song in the '80s and reinvented herself in the '90s.
Joni Mitchell continues to gather accolades, including nine Grammy awards, entry to the Rock and Roll Hall of Fame and Canada's highest civilian honour, the Companion of the Order of Canada. Meanwhile, the depth and imagination of this heart-on-sleeve songwriter has continued to inspire artists as diverse as Prince, Madonna, James Taylor, Herbie Hancock and Bjork. This July, five unique Australian voices will come together to express just how much this songwriting legend means to them in Both Sides Now – Celebrating the Songs of Joni Mitchell. It is a powerful line-up – Kate Miller-Heidke, Ella Hooper, Wendy Matthews, Kristin Berardi and Rachel Gaudry, backed by an outstanding twelve piece band. Audiences can look forward to all those unforgettable songs – "Big Yellow Taxi", "Both Sides Now", "Blue", "Woodstock", "Circle Game", "A Case Of You" – songs that have become part of our lives.
Both Sides Now is a concert not just for Joni fans but for anyone who loves real music, sung from the heart.
Concert Hall QPAC Wed 18 July 7:30pm. Celebrating the Songs of Joni Mitchell
"Machine Head" - Following a completely Sold Out 2015 Australian Tour, California Metal Giants MACHINE HEAD make their hugely anticipated return Down Under! MACHINE HEAD put on a live show that will guarantee you see bodies flying! Prepare to be bludgeoned with a wall of sound, voice shredded, bodies crushed.
Doors open at 6:30pm in The Grand Ballroom of the Eaton Hills Hotel Wed 18 July. Machine Head
THURSDAY 19 JULY 2018
"THE WHITE ALBUM CONCERT" - It's one of the most successful Beatles events ever staged in Australia. After two sold-out tours in 2009 and 2014, Chris Cheney (The Living End), Phil Jamieson (Grinspoon), Tim Rogers (You Am I), and ARIA Award-winning solo artist Josh Pyke are reuniting for a 2018 tour in a nod to the 50th anniversary of this very special album.
Few records echo down through the years like the White Album. Coming after India, but before the split, the White Album was the sound of John, Paul, George and Ringo throwing everything they'd learned into their musical blender. This major work bursts with variety, creativity, experimentation, and the genius of The Beatles during one of their most intense, fertile periods.
One of the 10 greatest albums of all time according to Rolling Stone it's 30 songs veer from the populist stomp of Back in the U.S.S.R and the mind-bending Happiness is a Warm Gun to the melodious sorrow of While My Guitar Gently Weeps, the ska pop fun of Ob-La-Di, Ob-La-Da, and the hard rock prototype Helter Skelter. Chris, Josh, Phil and Tim are backed by a 17-piece rock orchestra including guitars, strings, horns and two drummers.
Concert Hall QPAC Thurs 19 & Fri 20 July 8pm. The White Album Concert
FRIDAY 20 JULY 2018
"Rock The Ages: 80s Glam Show" - Kiss to Guns n Roses, Poison, Journey, Bon Jovi, Van Halen,Twisted Sister, Motley Crew, Skid Row, Warrant and many more. The Rock the Ages 80s Glam Show is the ultimate tribute to this golden period in rock history! An exciting, action packed show featuring all the greatest rock anthems from this era.
Featuring big production, lighting, dazzling musicianship from Australias finest! So what are you waiting for? Dust off the spandex, Put your Kiss make up and Slash hat on, Strike a pose with that air guitar and join in...for one hell of a party! Welcome to the Jungle Baby!
Coolum Hotel, Coolum Beach, Friday 20 July 10:00pm. Rock The Ages: 80s Glam Show
"Wild Card" - with their soulful three-part harmony and extensive, diverse mix of rock, reggae, country, ballads and pop there is something for everyone.
Caboolture R.S.L. Fri 20 July. Free show. Wild Card
"Little Steely Brothers" - is a high quality, totally live tribute band presenting the very best of The Eagles, Little River Band, Steely Dan and Doobie Brothers. The band formed in November 2008 and now with a repertoire of over 50 of the best songs from these four great bands. They will play songs like Hotel California, What a Fool Believes, Help is on its Way, Take it Easy, Reelin' in the Years, China Grove, Reminiscing, Long Train Runnin', Life in the Fast Lane, Heartache Tonight, Rikki Dont Lose that Number, The Long Run, Josie, Happy Anniversary, One of these Nights, Cool Change, It's a Long Way There, Boys of Summer, Listen to the Music and many more.
Little Steely Brothers are passionate about their music, and always connect with their enthusiastic audiences that love singing and dancing to some of the most timeless classic songs ever written, and as a result, have an ever-increasing family of devoted followers.
So get ready for a night of great music and dancing at the Victoria Point Sharks on Friday 20 July from 7.30pm. Little Steely Brothers
"BEN HARPER & CHARLIE MUSSELWHITE" - Grammy-Award winning, multi-platinum-selling artists BEN HARPER and CHARLIE MUSSELWHITE are bringing their second joint album "No Mercy in This Land" to stages across Australia this July.
Touring as a five piece line up, Ben and Charlie are continuing their 5 year-old collaboration, releasing their first new music together since the 2013 release of their collaborative album "Get Up!," which debuted at No. 1 on Billboard's Blues Albums Chart, winning a Grammy Award in 2014 for "Best Blues Album." A musical expression of the kinship between the two, the album recounts both Ben and Charlie's personal stories and adds to the sonic history of American struggle and survival.
The Tivoli Brisbane Fri 20 July 7:30pm. Few tickets left. Ben & Charlie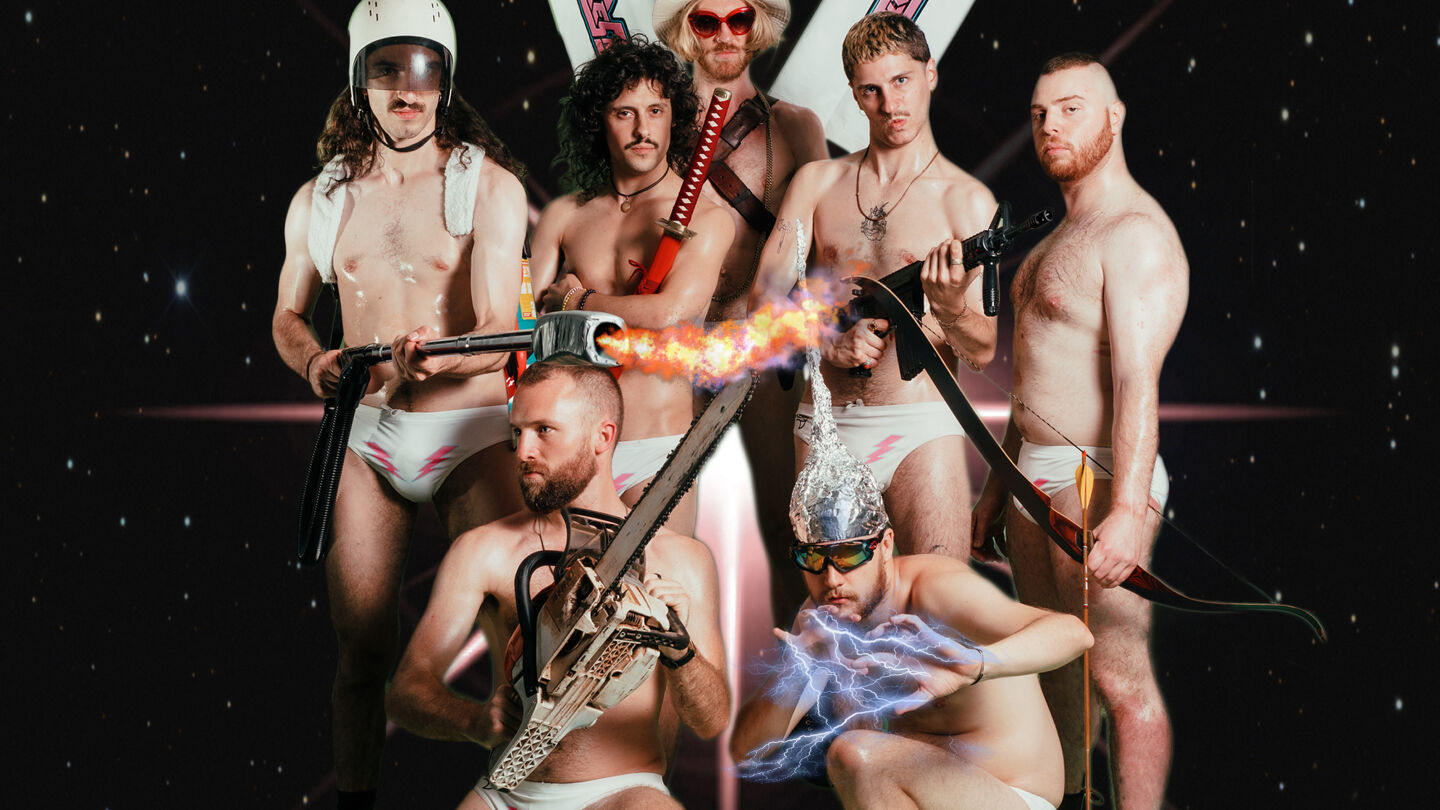 "Whole Lotta AC/DC" - brings you the thunder, power and frenzy of the greatest Rock band on Earth… AC/DC!!! Whole Lotta AC/DC is the complete tribute to rock legends, AC/DC, playing and celebrating the greatest hits of this classic hard rock band. The band assaults audiences from the word 'GO', with a superbly accurate show complete with costumes, concert quality sound and lighting and the unrelenting energy that AC/DC has become famous for.
The show takes on the greatest hits of both Bon Scott and Brian Johnson eras, including early supercharged hits like "TNT", "Long way to the Top", "Highway To Hell," "High Voltage," and "Whole Lotta Rosie". The band continues through the catalogue of hits, effortlessly making the transition to the modern day sound of the Brian Johnson era. This includes anthems from the critically acclaimed "Back in Black" album with songs like, "You Shook Me All Night Long", "Rock n Roll Aint Noise Pollution" and "Hells Bells" through to "For Those About to Rock (We Salute You)", "Thunderstruck", all the way up to the modern day triumph, "Rock n Roll Train".
Live and free at Caloundra R.S.L. Fri 20 July 9pm. Whole Lotta AC/DC
"The David Bowie Show" - A figure in popular music for over five decades, "The David Bowie Show" pays the ultimate tribute to the critically acclaimed English singer, songwriter and actor. The Brisbane-based production is an entirely live, high-energy show which incorporates five of the best full-time musicians playing over 30 hits. "The David Bowie Show" grabs the heart and soul of this ever-changing artist and takes a supernatural journey through sound and vision.
With over 3000 live performances across Australia and Overseas, relive the music that will last through generations with the songs 'Space Oddity', 'Life on Mars' 'Heroes', and many more.
Redcliffe Cultural Centre, Downs Street Redcliffe, Fri 20 July 7:30pm. The David Bowie Show
SATURDAY 21 JULY 2018
"Sunshine Coast 50th Festival of Brass" - The Festival of Brass is an annual event organised by Sunshine Brass Band on the Sunshine Coast. It is the only regional brass band competition in Queensland and this year marks the 50th anniversary. The Festival comprises bands from mainly the South Eastern part of the state and involves musicians performing classical highlights, music from the movies and featuring different forms of entertainment including jazz and rock.
It is run over two days—Saturday 21st July will be an all day solo competition held at the Nambour Salvation Army hall where for the first time, many young learners have the opportunity to experience playing a solo alongside more experienced performers. And Sunday 22nd July is the full band competition involving 8 brass bands. If you enjoy brass band music, this is an event not to be missed. As this is the 50th anniversary, there will also be special displays depicting the history of this festival.
A must for all brass music lovers.
Sunshine Coast Function Centre, 19 West Terrace, Caloundra, Queensland. Saturday 21 July 9:00am and Sunday 22 July 9:00am. Sunshine Coast 50th Festival of Brass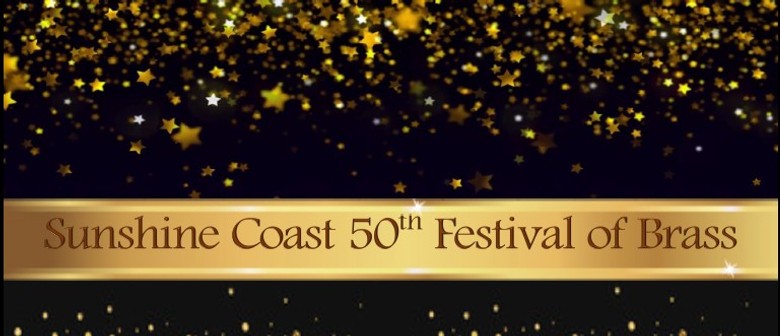 "RADIO SAIGON: 60s & 70s Tribute" - Events between 1962 and 1975 shook the world, as we know it. The music of that era shaped it, giving voice to a generation. Radio Saigon performs some of the best known tunes by the greatest artists of that period. They are an exciting stage act that will leave you breathless!!!!
Caboolture R.S.L. Sat 21 July. Free show. Radio Sáìgón: 60s & 70s Tribute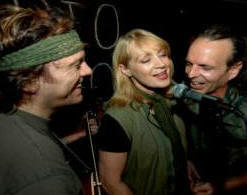 "Willie & Roy 'Legends' & Simon & Garfunkel" - Two shows.. One amazing Concert! Act 1 – 'Simon & Garfunkel The Concert' – the times, the stories, the Songs, the Reunion….. Mrs Robinson,The Boxer, Bridge Over Troubled Water, Feelin Groovy, Me & Julio, Homeward Bound, Scarborough Fair, Kathy's Song, Sounds of Silence………. Simon & Garfunkel's music remains timeless, etched in the memories of those they touched at the time, & the generations since who have discovered their songs.
Their close vocal harmonies & stirring songs penned by Paul Simon reflected the mood of the 60's & defined the term 'folk rock'. With record sales in excess of 70 million, & 10 Grammy Awards, their at times rocky personal relationship seemingly at odds with their inspired musical partnership. 'Simon & Garfunkel – The Concert' featuring Mark Shelley & John Robertson, is inspired by their remarkable reunion concert in Central Park New York 1981. A nostalgic, fun, story filled performance that will touch you & transport you back to where you were, & what you felt, when you first heard their music.
Act 2- 'Willie & Roy The Legends' On the Road Again, To All the Girls I've Loved Before, Always on my Mind, Seven Spanish Angels, Pretty Woman, Crying, Running Scared, Only the Lonely…… The story begins when during a Willie Nelson concert, Roy appears for one final unforgettable performance. Share the highs, lows, laughter & sadness of their lives…. John & Mark Channel as Willie & Roy. Their appearance, voices, manner & 'spirit' of Willie & Roy are uncanny. Even the most conservative of audiences laugh, clap, sing , & most of all …….. BELIEVE. Internationally renowned….sold out Theatres, Tamworth Festival & Cruisin' Country.
The Events Centre Caloundra, Saturday 21 July @ 8pm. Willie & Roy 'Legends' & Simon & Garfunkel
THURSDAY 26 JULY 2018
"Jeff Martin" - Jeff Martin, lead singer and guitarist of the iconic Canadian band The Tea Party, is heading to Eumundi for a solo acoustic gig as part of his The Stars in the Sands tour. The Stars In The Sand tour will bring an exciting element for fans with a release of an EP available exclusively at the shows.
The 4 track EP will feature original compositions with Moroccan musings, featuring sounds recorded in Morocco where Jeff led a musical odyssey with local musicians and fans three years ago. The Eumundi show will feature tracks from the new EP along with a few other fresh additions to the set list. Jeff Martin's reputation as a world renowned live performer is well known and he has been labeled everything from "child prodigy", "virtuoso guitarist", and a "singer with perfect pitch".
Jeff formed The Tea Party with his lifelong friends, Stuart Chatwood and Jeff Burrows in 1990 after many years of playing in bands together throughout their childhood. With a career spanning over 20 years, 8 major-label releases and 4 million record sales later, The Tea Party successfully gained the attention of fans worldwide, as well as touring countless times throughout Canada, the United States, Europe and Australia. A Jeff Martin show is one that moves the audience to realms like no other and many have likened his acoustic shows to 'a religious experience' that stays with them forever.
This will be a powerful musical journey not to be missed.
Imperial Hotel, 1 Etheridge St, Eumundi, Thursday 26 July 2018 7:30pm. Jeff Martin
FRIDAY 27 JULY 2018
"Polaris" - Fresh off their sold out national tour playing their biggest headline shows to date in support of their latest release, The Mortal Coil and performing with seminal down-under heavy heroes Parkway Drive, Polaris have entered 2018 with the Australian metalcore torch held high in their hands.
There's no signs of slowing down as Polaris are thrilled to announce the 'Dusk To Day' regional tour in July with special guests, Sydney's heavy five-piece, Justice For The Damned. One of 2017's most anticipated heavy releases, Polaris' debut album, The Mortal Coil stunned audiences and critics upon its release in November, landing at #6 on the ARIA Album Charts and #1 on the Independent Albums Chart.
2018 is the year that we see Polaris cement their place in the global scene among Australia's most elite heavy music exports.
Solbar, 19 Ocean Street, Maroochydore, Friday 27 July 2018 8:00pm. Polaris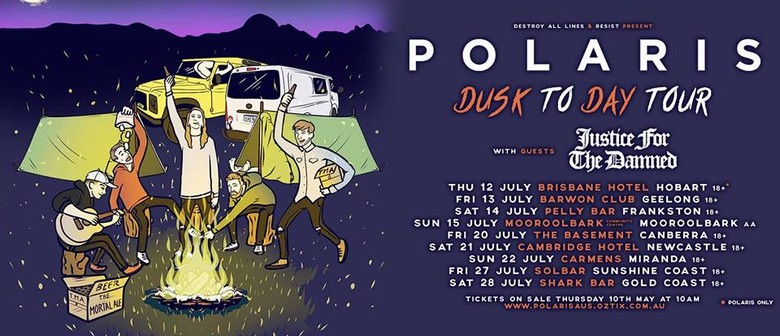 "Cool Change" - Playing all the classic hits people know and love to dance to, a strong focus on vocal harmony and attention to detail in their musical arrangements, Cool Change delivers everything from easy listening through to traditional rock 'n' roll.
Caboolture R.S.L. Fri 27 July. Cool Change
"Nothing But Thieves" - Following on from their recent SOLD OUT tour in December, Nothing But Thieves have announced their return to Australia for shows in July.
On the back of their rollicking 2017 album Broken Machine and 2015 self-titled debut album, Nothing But Thieves have gained a huge amount of attention through hits "Trip Switch" and "Amsterdam" , and are widely expanding their fan base around the globe with each new tour they conclude. Fans are encouraged to act quickly to not miss one of the most anticipated shows of the year.
SPECIAL GUESTS – Psychedelic Porn Crumpets.
In the Grand Ballroon, Eatons Hill Hotel, Fri 27 July. All ages event. Nothing But Thieves
"JOHN SCHUMANN (EX REDGUM) & THE VAGABOND CREW" - John Schumann is one of the very few songwriters who have changed the way a nation thinks. He is best known for his leadership of the legendary folk-rock band Redgum, and his Vietnam veterans' anthem, I Was Only 19 - though he hastens to add "19" is far from the only song he has written! In nearly 35 years in Australian music as a member of Redgum and as a solo artist, John Schumann has received almost every award the industry has to offer – some twice over.
Packed venues and standing ovations demonstrate why John Schumann has earned for himself a stellar reputation as an inspirational, intelligent and defiantly Australian performer. His new album, Ghosts and Memories, is due for release on ABC/Universal in July. While performances for the general public are infrequent these days, John Schumann and The Vagabond Crew are sought after to play at important and high-profile events including the Australia Day Concert in Canberra, the Anzac Day Match at the MCG and the Anniversary of the Battle of Long Tan in Vietnam and other high profile commemorative events at the Australian War Memorial.
John and has also travelled to Afghanistan (twice), East Timor, the Solomon Islands and Tanzania to entertain the Australian forces deployed there. Described by rock historian Glenn A. Baker as "One of the finest songwriters this country has produced", John's songs have been paid the ultimate compliment by becoming the property of the people and the country they were written about.
His lyrics are on reading lists in schools, colleges and universities throughout Australia.
Friday 27 July 2018 (opening 7:30 PM) at Hamilton Hotel. John Schumann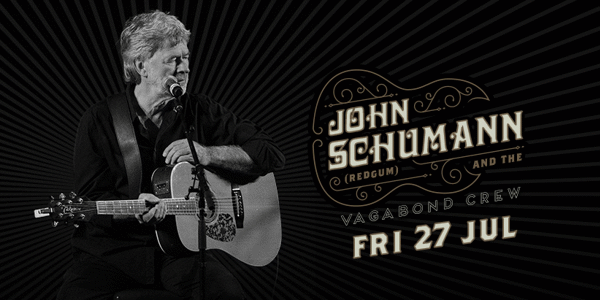 "The Highwaymen Tribute Show" - Willie Nelson, Johnny Cash, Waylon Jennings and Kris Kristofferson, four towering giants in the music industry. Collectively, as THE HIGHWAYMEN, the quartet has a unique connection to Australians that has only strengthened over the last two decades. Backed by the Silver Stallion Band, featuring pedal steel guitar, acoustic and electric guitars, drums, banjo, mandolin, fiddle and harmonica,
The Highwaymen Tribute Show is a musical and visual, re-creation – right down to their desert backdrop. The 'Men in Black' rifle coats and hats are an added touch that has really hit the mark with audiences.
Redcliffe Cultral Centre, Downs Street Redcliffe, Fri 27 July 7:30pm. The Highwaymen Tribute Show
SATURDAY 28 JULY 2018
"Cheap Fakes" - Redefining an already well established and well respected sound is a risky thing to do. Cheap Fakes have done it with nothing but absolute authenticity and sophistication.
Their new album Deep Space is one that has inspired audiences to fall in love with their music all over again. Deep Space magically weaves seductive brass lines through intricate melodies and infectious grooves. Infused with elements of Ska, Funk and something that can only be described as late-night Cactus-Jazz. The band have thrown in some Latino and Americano zest.
Then, to complete the album, they gave it a psychedelic squeeze before pouring it into an 8 track vinyl pressing. Now taking this long awaited album to the nation, Cheap Fakes will tour extensively in 2018 to bring their new album to their fans Australia wide.
Performing with Hemingway and Tides, this should be a truly memorable night.
Solbar, 19 Ocean Street, Maroochydore, Saturday 28 July 2018 8:00pm. Cheap Fakes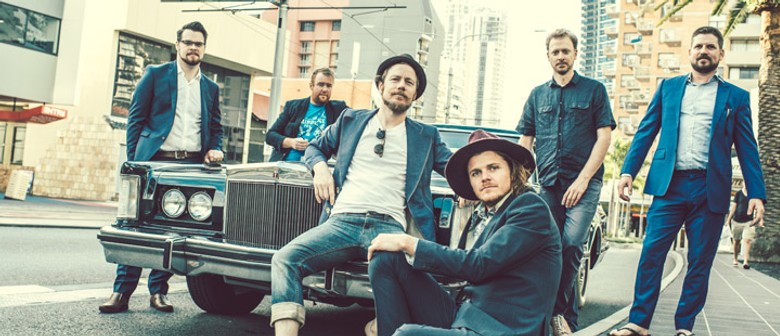 "Dennis Knight & The Dukes" - In the late 60's Dennis Knight recorded a song 'Every Breath I Take', with the backing of the then Bee Gees and this is when his career took off.
Dennis has shared the stage with some of the greats in the industry and he is still receiving the ovation he deserves. Joined by rockers The Dukes – this is a show you won't want to miss!
Redcliffe R.S.L. Sat 28 July 7:30pm. Dennis Knight & The Dukes
"Hot Pursuit" - is the ultimate mix of male/female vocals and harmonies, keyboard, guitar and sax. From smooth dinner music to pumping dance music, this band will create a great vibe every time.
Caboolture R.S.L. Sat 28 July. Hot Pursuit

Upcoming Shows... Tickets On Sale Now !!! Through these outlets Ticketek or TicketMaster
Upcoming Shows...
Celine Dion - BEC - Mon 30 July & Tues 31 July 2018
Katy Perry – BEC – Wed 08 & Fri 10 Aug 2018
Pink – BEC – Tues 14 & Wed 15 Aug 2018
Bob Dylan - B.E.C. - Fri 24 Aug 2018
Queens of the Stone Age – Riverstage - Tues 28 Aug. 2018
Gene Simmonds - The Tivoli - Sat 01 Sept 2018
The Cat Empire - The Triffid - 4 shows Thurs 20 to Sat 22 Sept 2018
Vance Joy - Riverstage - Thurs 20 Sept. 2018
Vance Joy - Riverstage - Fri 21 Sept. 2018
Cher - B.E.C. - Fri 28 Sept 2018
Cheap Trick - The Tivoli - Thurs 18 Oct 2018
Def Leppard – B.E.C. - Tues 6 Nov. 2018
Taylor Swift - The Gabba - Tues 06 Nov 2018
Sam Smith - BEC - Sat 10 Nov 2018
2Cellos - B.C.E.C. - Sun 2 Dec 2018
Shania Twain - BEC - Wed 05 Dec 2018
Bon Jovi - Suncorp Stadium - Thus 6 Dec 2018
2019
Shawn Mendes - BEC - Wed 6 Nov 2019