101.5 FM Gig Guide
as heard on Saturday Cruise-With Nikki The Gig Guide Show 3-6pm every Saturday... Also Contributions by Lucy from Wednesday Nights from 10 pm, And Howlin' Jack Focussing on Cab Sports Club and Rockabilly Gigs
Lucy !!!!!!!!!!!!! Lucy Sonter's Website


Nikki !!!!!!!!!!!!!
MONDAY 27 MARCH 2017
"TWENTY ONE PILOTS" - Fresh off their massively successfully, sold-out Australian and New Zealand headline tour and performances at Groovin The Moo, TWENTY ONE PILOTS have announced their first-ever arena shows in March 2017. Twenty One Pilots have received a number of major awards nominations in recent weeks, including four nods for the 2016 Billboard Music Awards: "Top Duo/Group," "Top Rock Artist," "Top Rock Album (for Blurryface)," and "Top Rock Song" (for 'Stressed Out'). Brisbane Entertainment Centre Mon 27 March 7:30pm.
Twenty One Pilots


WEDNESDAY 29 MARCH 2017
"VIOLENT FEMMES" - Violent Femmes return to Australia in March 2017 for their most extensive tour since 2005. The autumn tour follows a sold-out national tour in March 2016 that included headline spots at Womadelaide, Golden Plains, Twilight at Taronga and A Day On The Green, this time however,
the Femmes will traverse the road less travelled appearing in regional & suburban centres, major cities and an encore performance of their A Day On The Green headline shows with Hoodoo Gurus. Expect to hear cuts old and new including tracks from 2016's comeback release We Can Do Anything. A triumphant return after a 16 years absence. The Tivoli Wed 29 March. Doors open 7:30pm.
Violent Femmes


THURSDAY 30 MARCH 2017
"The Angels" - Legendary Aussie rock band The Angels are digging through their back catalogue to pick some of their biggest hits for a special run of shows. The 4x4 concept will see the band hand-picking four of their most iconic records, and playing, back-to-back, four hits from each record. Thursday 30 March 8:00pm & Villa Noosa Hotel, Mary St Noosaville, Friday 31 March 8:00pm.
The Angels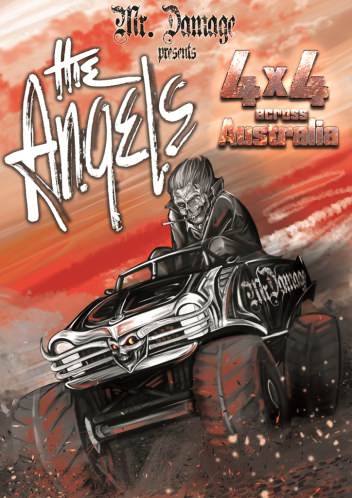 "The Steele Syndicate with The Con & The Liar + The Counterfeit Umbrellas" - The Steele Syndicate is bringing its unique reggae/funk/rock madness to The Foundry Thurs 30 March (Doors open7:30pm) and it's going to be explosive! If this energetic octet does not get you moving, you might need to check your pulse.
Playing a sexy support slot on the evening is The Con & The Liar. With their bluesy, gritty sound, laden with catchy hooks, they're punching tickets on the non-stop train to groove-town. Feel-good crew The Counterfeit Umbrellas will also be bringing the feel-good vibes with their feel-good folk. Did I mention that they'll make you feel good? This is an 18+ event.
The Steele Syndicate with The Con & The Liar + The Counterfeit Umbrellas



"SPIDERBAIT" - Spiderbait's Ivy and the Big Apples tour is officially Goin' Off! This time around, Kram, Whitt and Janet are throwing it back to 1996, playing their third and most celebrated album, the seminal 'Ivy and the Big Apples', in its entirety. Fans can expect all 16 tracks from start to finish including some songs that have never been played live before. Plus, they'll be throwing in a few other favourites as well! Spiderbait's last two headline tours have completely sold out and this time round tickets are selling faster than inflatable pool swans. Get on it! Friday show sold out so, a 2ND show has been added Thurs 30 March @ The Tivoli.
Spiderbait


FRIDAY 31 MARCH 2017
"The Rockin Bodgies" - Five piece 60's and 70's style group, playing good, danceable Rock n Roll with a healthy influence of Rhythm & Blues @ Caboolture R.S.L. Friday 31st March 8pm.
The Rockin Bodgies


"TODD MCKENNEY: SINGS PETER ALLEN – 20TH ANNIVERSARY" - 2017 marks 20 years since Todd McKenney immersed himself in the colourful, musical life of the late, great Peter Allen, assuming his character in the legendary musical, 'Boy From Oz'. Todd was warmly embraced by Peter's family as he prepared for the role, and they've remained lifelong friends; his contribution to the memory and legacy of Peter Allen is enormous, and so over the years he has continued to play musical homage to this great entertainer. This show is not only Peter Allen's hits,
Todd also includes songs from some of his earlier musical theatre performances and you'll hear stories and anecdotes of Peter, as well as those from Todd's time on national television and the entertainment circuit. Got a question? Call it out during the show and Todd may just answer you back! You're most welcome to score Todd's performance, in fact why not bring your score cards with you, but please do be kind – a gentle warning, be careful, as he can give as good as he gets! Join Todd for an action packed night of fun and live entertainment, as he brings you "Todd McKenney Sings Peter Allen, 20th Anniversary Tour". 2 shows... Kedron-Wavell Services Club Fri 31 March 8pm & Sat 1 April 5pm.
Todd McKenney Sings Peter Allen


"GUY SEBASTIAN: SUB-CONSCIOUS" - Off the back of a career-defining 2016 which cemented Guy Sebastian as one of the countries most talented acts, the Australian superstar is inviting fans to a series of album preview shows set to showcase tracks from his anticipated June release CONSCIOUS. Dubbed "Subconscious" the dates are a rare opportunity to experience Sebastian in an intimate small room setting like never before. The Triffid Newstead Fri 31 March 8pm.
PIC -
Guy Sebastian : Sub Conscious


SATURDAY 1 APRIL 2017
"Country Boys" - Headed by Toby Tyler Country Boys are one of Brisbanes premier country style rock bands, always bring a great atmosphere and good times @ Caboolture R.S.L. Saturday 1st April 8pm.
Country Boys


"KISSperience" - Who wants to rock 'n' roll all night? KISSperience is Australia's hottest KISS tribute show withone of the largest stage shows and productions of any tribute band in the land. KISSperience offers all that you would expect from a KISS show including genuine costumes, instruments and face paint plus fire-breathing, blood-spitting, smoking guitars and of course, a giant flashing KISS logo! This larger than life, high energy show plays all the classic hits like 'Shout It Out Loud', 'Rock'n'Roll All Night' and 'I Was Made for Lovin' You' plus many more of your favourite songs. So if you were made for lovin' KISS, don't miss the KISSperience Show! Caboolture Sports Club Sat 1 April 8:30pm. Free Show..
KISSperienc


"The Australian Eagles Show" - In the early 1970's a band appeared who's music appealed to audiences of all ages. 'The Eagles' still have a timeless appeal and connect with music lovers everywhere. This amazing musical combination is captured in all its glory by 'The Australian Eagles Show'. They deliver the country's most authentic reproduction of the recorded works of the legendary, multi – platinum selling, US group The Eagles. Hear all of The Eagles greatest hits with state of the art sound & lighting to intensify The Eagles tribute experience. FREE SHOW FOR MEMBERS @ Norths Leagues Club Saturday 1 April 7:30pm. 18+ Event.
The Australian Eagles Show


"KEITH URBAN EXPERIENCE" Did you miss Keith Urban on his recent tour? Or maybe you want to relive it? Then catch the Keith Urban Experience @ Victoria Point Sharks Sporting Club Saturday March 25 @ 8:00 pm.
Keith Urban Experience


"Harry Potter and the Philosopher's Stone™ in Concert" - The Harry Potter™ film series is a cultural phenomenon that continues to delight millions of fans around the world. In an Australian-first, this special concert will feature Queensland Symphony Orchestra performing every note from Harry Potter and the Philosopher's Stone™ live on Saturday 1 April 2017 @ Brisbane Convention & Exhibition Centre. Two shows 1:30pm & 7:30pm. Audiences will relive the magic of the film in high-definition on a giant screen, while hearing the orchestra perform John Williams' unforgettable score.
Harry Potter and the Philosopher's Stone™ in Concert


SUNDAY 2 APRIL 2017
"Blondie & Cyndi Lauper" - They're two of music's most iconic artists, the wondrous BLONDIE and the bewitching CYNDI LAUPER. In a world first, these two amazing artists are teaming up to co-headline an absolute cracker of an Australian tour in April 2017. Cyndi Lauper and Blondie will play a day on the green winery shows nationally and, in conjunction with Frontier Touring, arena shows in Melbourne and Sydney. As co-headliners, the bands will alternate in closing the shows. The tour includes Sirromet Wines, Mt Cotton on Sunday April 2.
Blondie & Cyndi Lauper