101.5 FM Gig Guide
as heard on Saturday Cruise-With Nikki The Gig Guide Show 3-6pm every Saturday...
Click here to jump to future major concerts with tickets available (bottom of the page).
FRIDAY 18 JANUARY 2019
"Soul Cutz" - With a repertoire spanning 4 decades Soul Cutz have the ability to sound like Barry White and The Bee Gees, coupled with outstanding dance moves that mimic Michael Jackson, James Brown & Elvis Presley to name a few. Since X Factor 2014, Soulcutz has fine tuned itself and now comes in many forms.
The artists work closely together to perfect their unique sounds.
Soulcutz comes from a floorshow and cabaret-style entertainment background and they are definitely one of the happiest crowd pleasers.
Victoria Point Sharks Sporting Club, Fri 18 Jan 7pm. European Broadcasting Union
"SMELLS LIKE THE 90'S ROCK SHOW' - is a celebration of the greatest bands and hits of the 90's era. A period of ripped jeans and flanno shirts brought to life on stage in this epic show on Friday 18th January. All your favourite 90's bands are covered, including a fully costumed performance of the decade's biggest band, Nirvana! This will be one to remember – NO COVER CHARGE.
Bribie R.S.L. Friday, January 18, 2019 at 9 PM. Smells Like The 90's Rock Show
SATURDAY 19 JANUARY 2019
"The Vaudeville Smash" - Made up of three brothers and two mates, no other Australian band sounds like 'em. An explosion of funk, flute, sax, synth and groove, the dance floor is packed at a Vaudeville Smash gig.
In case you're wondering, they took their name from an Italian children's karaoke machine that was around in the late '80s. In 2016, Vaudeville Smash released their sophomore album The Gift. A synth heavy, sax laden, bass induced journey. A contemporary reworking of the early 80s funk/boogie scene, the album evokes visions of Cameo, Midnight Star and the Gap Band and encompasses almost two years of writing, recording and touring.
Solbar, 19 Ocean Street, Maroochydore, Saturday 19 January 2019 8:00pm. The Vaudeville Smash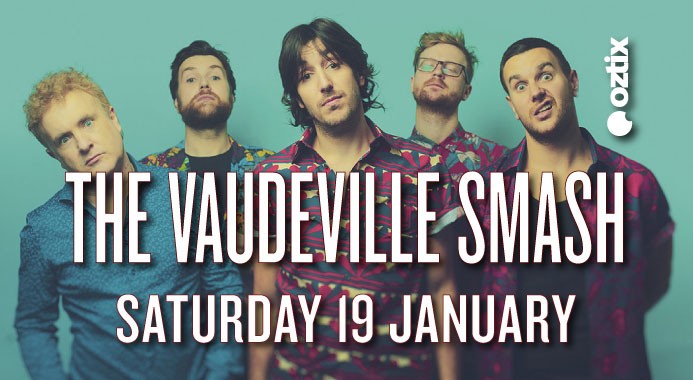 "Rumours: Fleetwood Mac Tribute" - See a tribute to a sensational and enduring band of the 70's and 80's full of costumes from the era that were worn by the 'Mac' ladies Stevie and Christine. This free tribute show is playing at Caboolture Sports Club in the Grevillea Room from 8.30pm with a DJ til late! Relive classics including Dreams, Landslide and Go Your Own Way.
At Caboolture Sports Club: Rumours: Fleetwood Mac Tribute
"SHAG" - have built one of the most outstanding shows in south east Queensland with one simple philosophy "give them a show they'll remember", with this in mind, the show contains the largest light show that you'll experience from a local band including laser lights, strobe, imported dmx derby lighting, a huge 22 " mirror ball, moon flower gobos, wash lights, water effect lights and the latest in led technology.
Combine this amazing light show with the right amount of the latest hits and those must have classic rock songs and you have an experience that is more like a concert than a local band. SHAG also pride themselves on having the ability to read the crowd and play music that is appropriate to the demographic in the room.
Caloundra R.S.L. Sat 19 Jan 9pm. Shag
"Phil Collins: Not Dead Yet" - Global music legend Phil Collins 'Not Dead Yet' Live Tour is the hottest ticket this year. With over 280 million records sold, in a career spanning almost 50 years as a solo artist and a member of Genesis, Phil Collins is a generational icon and cultural legend whose work continues to influence and inspire fans, critics and fellow artists such as Adele, Lorde, Pharrell, and Beyoncé.
Suncorp Stadium, Sat 19 Jan 8pm. Phil Collins: Not Dead Yet
SATURDAY 19 JANUARY 2019
"Rockin Bodgies" - The Rockin Bodgies are a 60's and 70's Rock n Roll band. Like they say , If It Ain't The Rockin Bodgies, It Aint Rock and Roll !!! Come along and dance the night away to some good Rock n Roll music.
Caboolture R.S.L. Sat 19 Jan 7:45pm. Rockin Bodgies
"Leon Bridges" - will return to Australia in January 2019 for his fourth visit and biggest shows to date. On a short visit last year, the R&B artist previewed material from his then, forthcoming album in two sold-out shows in Sydney and Melbourne, plus two dynamic Bluesfest sets.
This summer, the Texan singer-songwriter will return to sweep audiences off their feet once again. Leon Bridges' sophomore album GOOD THING aims to connect his sentimentality to a future sound.
Released in May last year, it rumbles with orchestrated ballads, and pops with danceable soul-funk vibes, and claimed a US Billboard Chart Top 3 debut.
The Tivoli, Brisbane for 2 shows. Sat 19 Jan and Sun 20 Jan. Doors open 7:30pm. Leon Bridges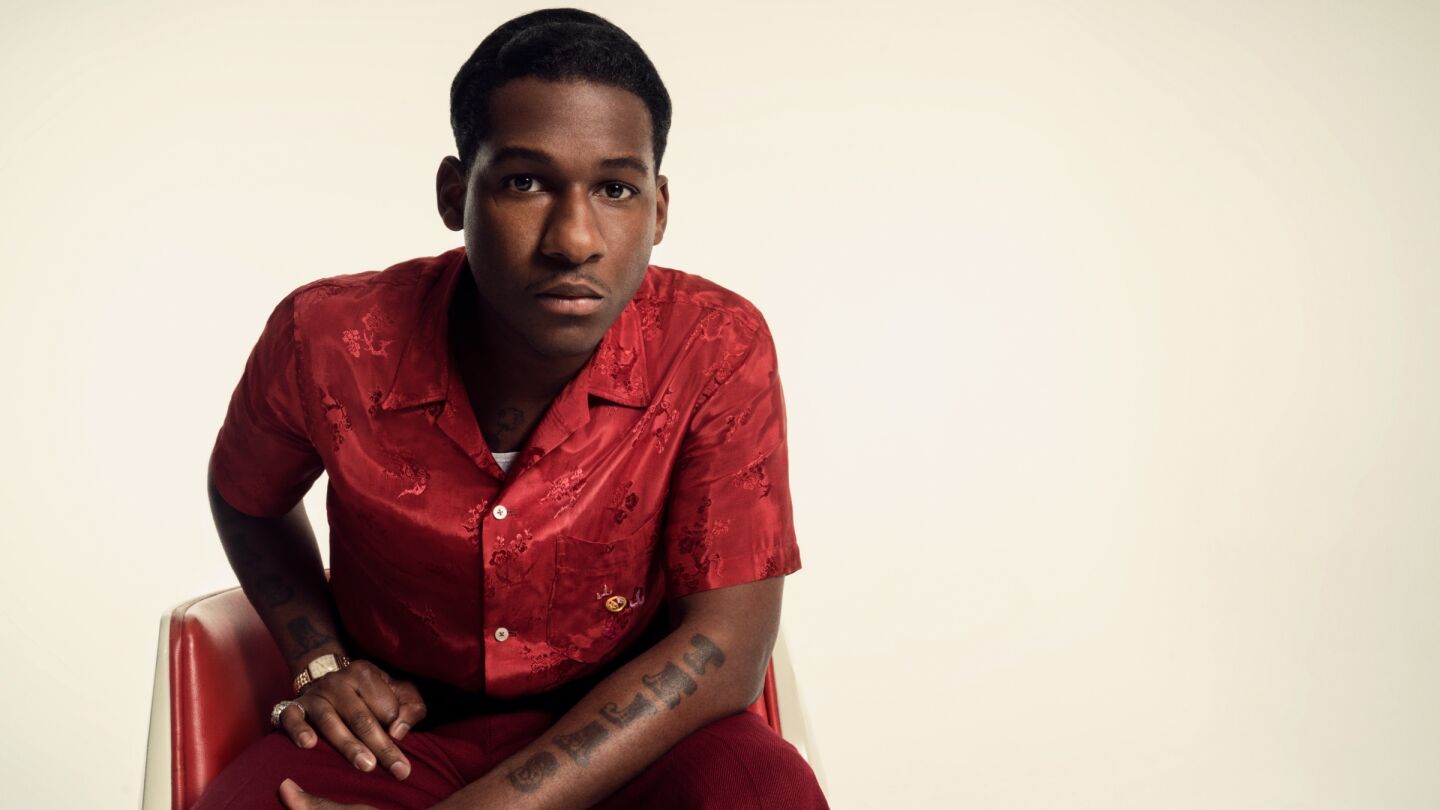 TUESDAY 22 JANUARY 2019
'Julia Holter" - Los Angeles - based composer and multi-instrumentalist Julia Holter blurs the boundaries between indie music, modern composition, and electronic music in her own work as well as her collaborations.
Aviary, Julia's fifth studio album, is an epic journey and the follow-up to her critically acclaimed 2015 record, Have You in My Wilderness.
The Tivoli, Brisbane, Tues 22 Jan. Doors open 7pm. Julia Holter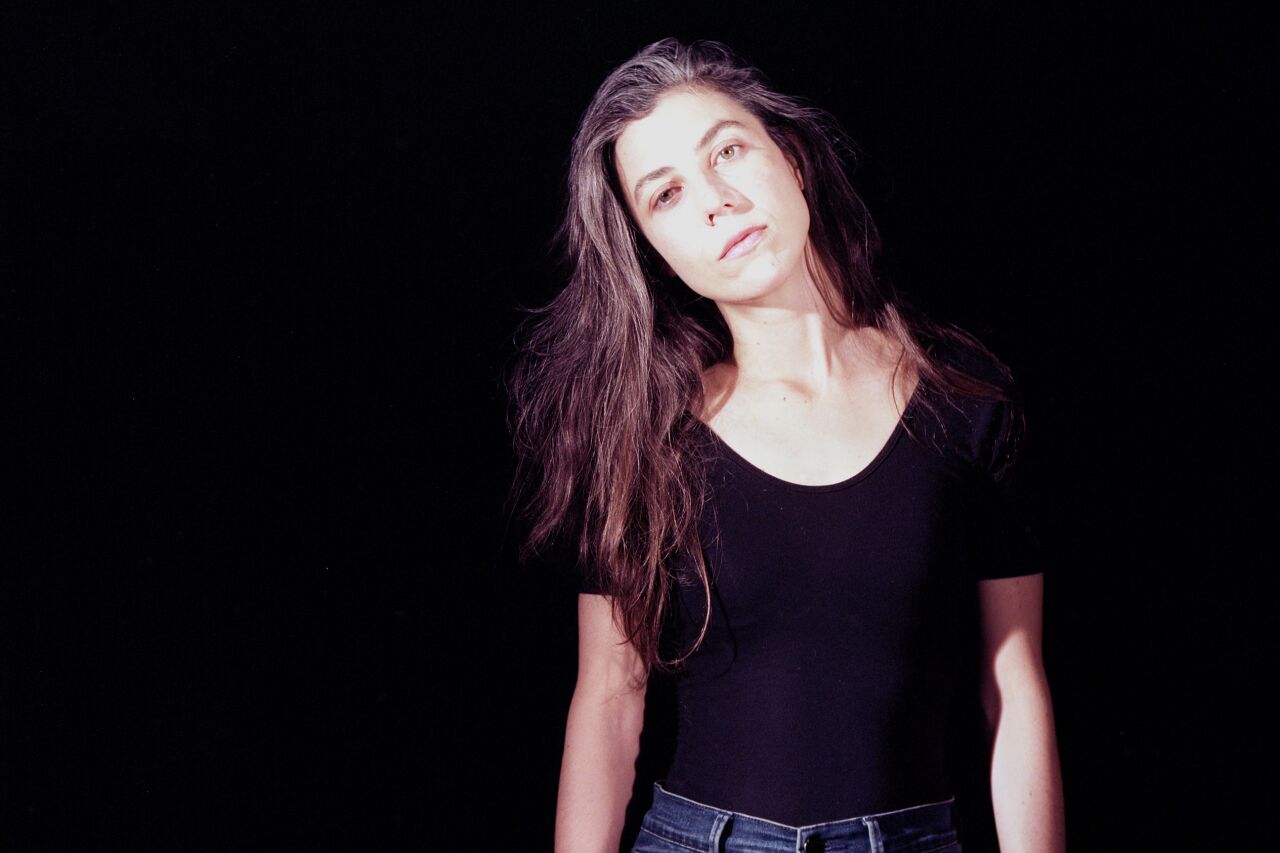 "Florence + The Machine" - Famed for their mesmerising live show, Florence Welch and her band will gear up to unleash a set of songs spanning their previous three albums, and debut brand new songs from the fourth studio album, High As Hope, live for Australian audiences.
Two shows at Brisbane Riverstage. Tues 22 Jan 6pm & Wed 23 Jan 6pm.
Limited tickets left for both shows. Be quick! Florence + The Machine
WEDNESDAY 23 JANUARY 2019
"Neneh Cherry" - Swedish music icon Neneh Cherry brings her soulful, simmering electronic pop and R&B to The Tivoli in January for a very special performance on the back of the release of her fifth solo album, Broken Politics.
With a career spanning three decades and hits like 'Buffalo Stance' and 'Manchild', Cherry has always been an artist with something to say, stamping her mark on the world with feminist anthem 'Woman' and her commentary on world issues in her iconic hit '7 Seconds'.
The Tivoli, Brisbane, Wed 23 Jan. Doors open 7pm. Neneh Cherry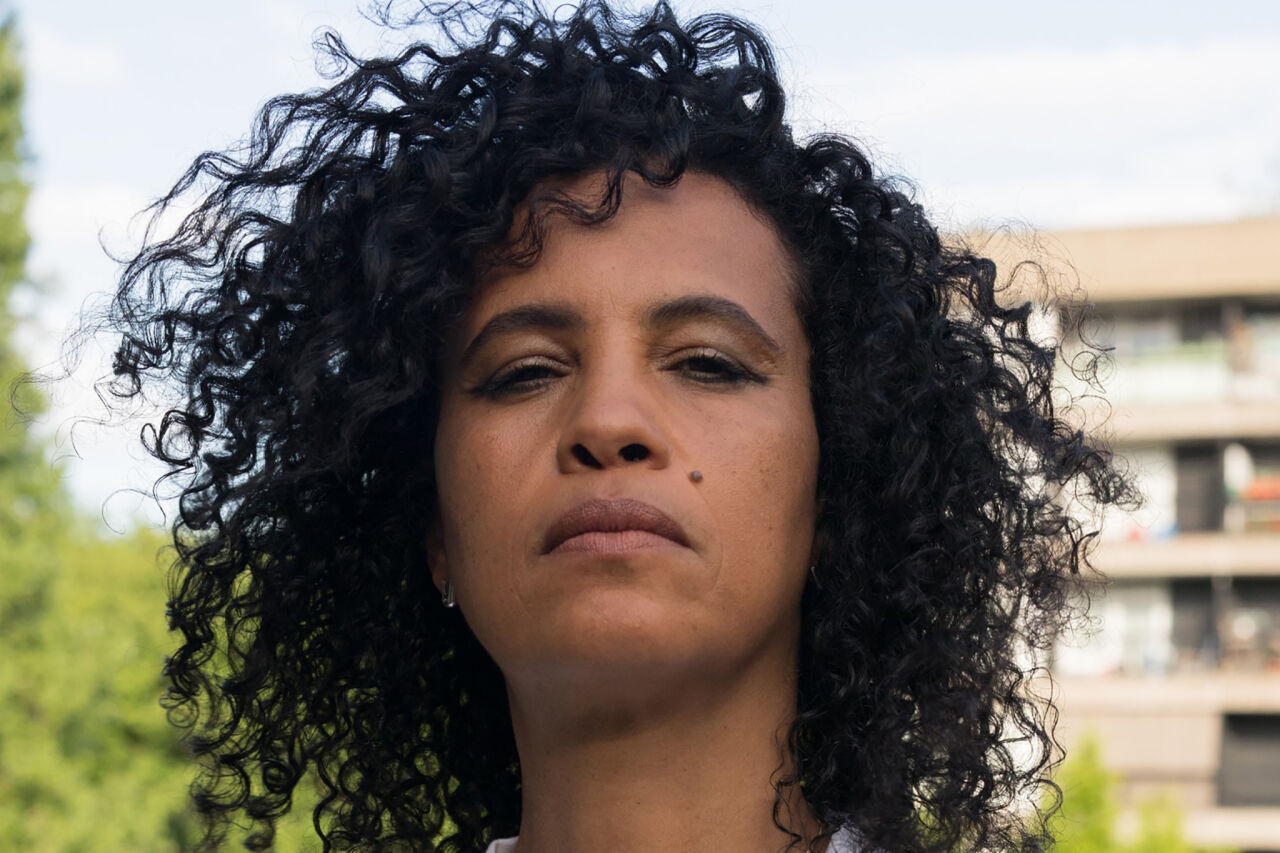 "Issi Dye" - presents A Tribute to Johnny O'Keefe & legends of rock 'n' roll music.
Johnny O'Keefe was already a big rock 'n' roll star when Issi Dye came onto the scene in the late 60's. Issi watched the Aussie rocker many times on his television shows '6 o'clock Rock' & 'Sing,Sing Sing', never realising that someday he would work on the same stage and become friends with his hero!
This is a great fully costumed tribute show that's not to be missed, with all the 50's & 60's memories and the great songs!! Sing Sing Sing, She's My Baby, Move Baby Move, The Wild One, Common and Take My Hand, She Wears My Ring, Shout & many, many more hits. 2018/19 is the 40th anniversary of the passing of this great Aussie legend, so come and join Issi Dye in bringing back the memories in gold!
Redcliffe Entertainment Centre - Downs Street, Redcliffe. Wed 23 Jan 11am. Issi Dye
FRIDAY 25 JANUARY 2019
"Australia Day Weekend at Coolum" - COPY CATS - Friday 25th Jan - 10pm in the sports bar.. EWE BEAUTY Oz Rock Show! x 2 SHOWS Saturday 26th Jan - Sports Bar from 10pm & Sunday 27th Jan - Beach Bar, 3 – 6pm.. Free entry - 18+ Coolum Hotel, 1822 David Low Way, Coolum Beach, Friday 25 January 2019 – Sunday 27 January 2019. Australia Day Weekend at Coolum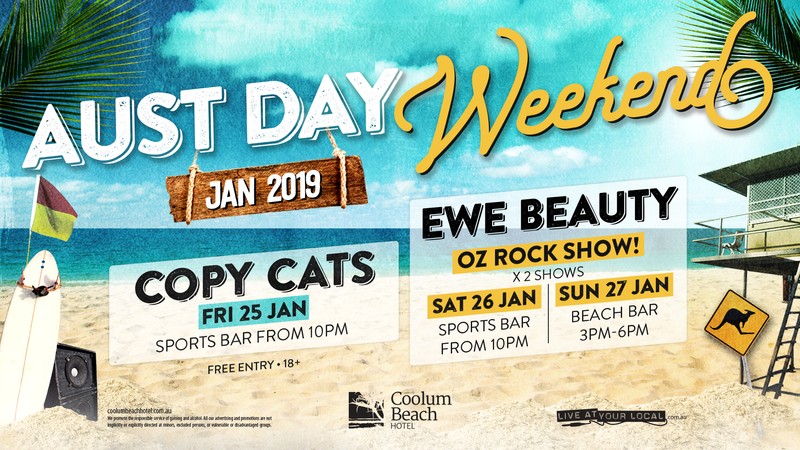 "The Wanderers Band" - If you're passionate about 50's and 60's music, you'll be in jukebox heaven when listening to the sounds of this truly authentic rock 'n' roll band.
Their extensive repertoire gives The Wanderers Band a versatility that appeals to young and old alike. From the moment they strum the first chord, their energy is transmitted throughout the audience, and you know you're in for a great night of entertainment.
Caboolture R.S.L. Fri 25 Jan 7:45pm. The Wanderers Band
"PSYCHO KILLER: A TRIBUTE TO THE TALKING HEADS" - Featuring The Toxic Garden Gnomes, Dirty Hearts, Requin, Simi Lacroix & Fugitive & the Vagabond, all playing a set of tunes from Talking Heads.
Friday 7:30pm January 25th at The Triffid, Newstead. Psycho Killer: A Tribute To The Talking Heads
SATURDAY 26 JANUARY 2019
"The Delta Riggs" - The Delta Riggs have done some impressive live shows, having supported Foo Fighters, Kasabian and Primal Scream, plus performing at Splendour In the Grass, Groovin' The Moo, and Festival of the Sun.
Despite modern pressures, The Delta Riggs have stayed true to themselves. They've remained busy on the road, meeting and performing for real people, listening to their stories and creating genuine connections.
It's these stories, mashed with sweat, swagger, and guitars that has influenced the band's fourth self-produced record, due for release in 2019.
Solbar, 19 Ocean Street, Maroochydore, Saturday 26 January 2019 8:00pm. The Delta Riggs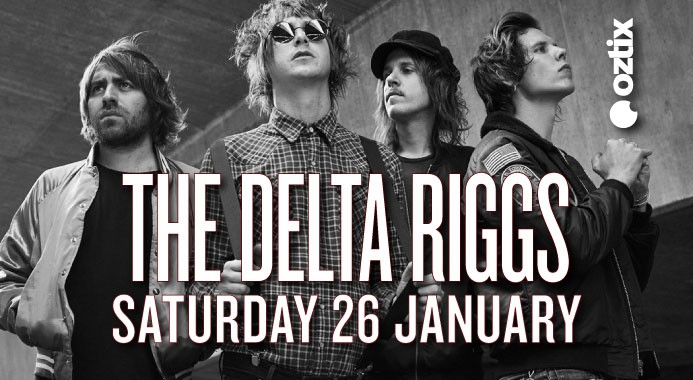 "The Bowery Boys" - The Bowery Boys are a hard hitting Rockabilly Trio based on the Sunshine Coast QLD. With guitar, double bass and drums this little band has a big sound.
Coolum Beach Surf Club, 1775-1779 David Low Way, Coolum Beach, Saturday 26 January 2019 9:00pm. he Bowery Boys
"Rock Steady" - are a band on a mission…to bring a high-calibre, classic rock'n'roll show to the people of Redcliffe this Australia Day! Rock Steady are a three-piece live band with experienced professional musicians, selecting the best music from the 50s, 60's, 70's, 80's and beyond.
Rockin' guitar riffs, high energy drums and thick, punchy bass lines. This is the kind of music that makes you wanna yell "I love this song!!!" and make you wanna party all night long!
Redcliffe R.S.L. Sat 26 Jan. Rock Steady
"Dave Ritter Band" - Dave Ritter has been the cornerstone for the Queensland music industry for over a decade. His explosive voice has earned him a reputation as an energetic "live" performer, making him the envy of his peers.
Join him at his Nod to Aussie Rock Show.
Caboolture R.S.L. Sat 26 Jan 7:45pm. Dave Ritter Band
"KONSHENS" - Award winning Jamaican reggae dancehall superstar, Garfield Delano Spence aka KONSHENS announces world first Down Under 2019 Tour. KONSHENS will play five shows in Australia, coming to The Tivoli on Saturday 26 January 2019.
His hits have included "Winner", "Rasta Impostor", "This Means Money", "Good Girl Gone Bad", "Gal Dem A Talk", "Realest Song", "Represent", "Do Sumn" and "Forward", "Gal a bubble", "Bruk Off" featuring CHRIS BROWN and more.
His latest, is featuring with Enrique Iglesias in "I Don't Dance (Without You)" and "Baseline".
The Tivoli, Brisbane, Sat 26 Jan. Doors open 7:30pm. Konshens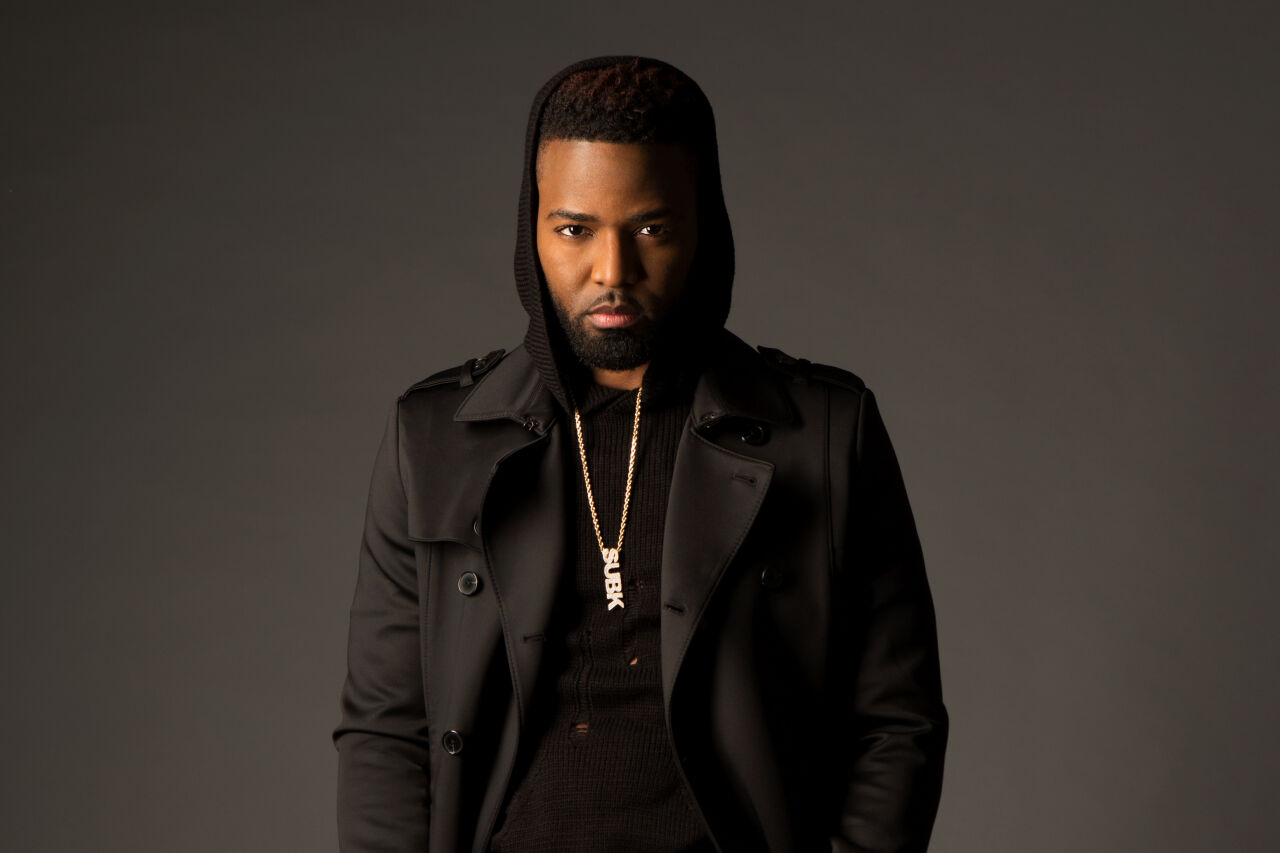 "Prime Ministers of Australia" - is a tribute to the classic and timeless music of Aussie Rock! Includes all-time greatest artists like INXS, Cold Chisel, Powderfinger, Jet, Daddy Cool, ACDC, Crowded House, Midnight Oil and more. This NO COVER CHARGE SHOW is set to blow your socks off on Saturday 26th January, 9pm at Bribie R.S.L. Prime Ministers of Australia
"Sandstone Australia" - Come say G'Day! We are celebrating the great country we reside in, that's right it's AUSTRALIA DAY! On Saturday 26th January, make the most of our Queensland weather with slides and big pools plus a 50 METRE MEGA SLIP N SLIDE! You beauty! BYO inflatables to go down the slip n slide!
From 12 noon enjoy an Aussie lamb barbie, lamington eating competitions, live music and entertainment right on the shores of Pumicestone Passage. To top it all off… it's FREE ENTRY! Fair dinkum!
Sandstone Point Hotel. Sandstone Australia
SUNDAY 27 JANUARY 2019
"George Ezra" - Making plans to ride his newly minted Australian #1 single 'Shotgun' all the way into the hot Australian sun, English singer-songwriter George Ezra announces a return to the sunburnt country with some colossal 2019 dates!
Recently bestowed as the biggest song of the UK summer by the Official Charts Company, 'Shotgun' has taken off big-time Down Under. Its ridiculously catchy chorus and adorably quirky video clip have been inescapable, boosting Ezra's sophomore record Staying at Tamara's into the ARIA Top 10 and laying the foundation for huge 2019 shows in Perth, Brisbane, Adelaide, Sydney and Melbourne.
From humble beginnings as a 'have guitar – will travel' type roaming around the pubs and clubs of his native Bristol, George Ezra has dominated the musical landscape over the past few years.
Brisbane Riverstage, Sun 27 Jan 5pm. George Ezra

Upcoming Shows... Tickets On Sale Now !!! Through these outlets Ticketek or TicketMaster
Upcoming Shows...
2019
Slash - BCEC - Wed 30 Jan 2019
Keith Urban - BEC - Thurs 31 Jan, Fri 01 Feb 2019 & Sat 02 Feb 2019
Lily Allen - The Tivoli - Fri 08 Feb 2019
Nickelback - BEC - Wed 13 Feb 2019
Maroon 5 - BEC - Tues 19 Feb 2019
EMINEM Rapture - QSAC Stadium - Wed 20 Feb 2019
Red Hot Chili Peppers - BEC - Mon 25,26 Feb 2019 *Sold Out*
Arctic Monkeys - BEC - Sun 03 Mar 2019
The Eagles - BEC - Sat 09 Mar 2019
John Mayer - BEC - Mon 25 March 2019
Shawn Mendes - BEC - Wed 6 Nov 2019
KISS: End of the Road World Tour - BEC - Thu 28 Nov 2019


Other Acts in 2019
January
Conversations with Nick Cave HOTA, Gold Coast, Jan 5;
Brisbane City Hall, Jan 12.
Pineapple Fields (Tash Sultana plus Ocean Alley, Oka, Lime Cordiale) Sunshine Coast, Jan 12.
Summer Series (The Jacksons, Kool & the Gang, The Pointers Sisters, Village People and Sister Sledge)
Sandstone Point Hotel, Jan 13; Gold Coast Convention and Exhibition Centre, Jan 15.
Mumford and Sons Brisbane Entertainment Centre, Jan 15.
Phil Collins Suncorp Stadium, Jan 19.
Under the Southern Stars (Hoodoo Gurus, You am I , Sheppard, Superjesus, British India) Broadwater Parklands, Jan 19;
Sunshine Coast Stadium, Jan 20. Prodigy
Riverstage, Jan 28. Slash ft Myles Kennedy and The Conspirators
Brisbane Convention and Exhibition Centre, Jan 30.
February
Laneway (Gang of Youths, Courtney Barnett, Baker Boy, Camp Cope), Feb 2.
By the C (Icehouse, Sunnyboys, Do Re Mi, Mental as Anything) Coolangatta, Feb 2. RNB Vine Days
(Nelly, Craig David, All Saints) Sirromet Winery, Feb 3. So Pop (Aqua, Vengaboys, Blue, B*Witched) Red Hot Summer Tour(Jimmy Barnes, Joan Jett, Living End, Diesel, Richard Clapton) Sandstone Point, Feb 9-10.
Day on the Green (Rodriguez, Xavier Rudd, Busby Marou, Pierce Brothers)
Sirromet, Feb 9.
March
Bryan Ferry, I'm Talking, Died Pretty, Models, Sirromet Winery, Mar 3.
Kylie, Jake Shears, Hatchie,Sirromet Winery, Mar 17. Slayer & Anthrax Riverstage, Mar 7. Eagles Brisbane Entertainment Centre, Mar 9-10.
CMC Rocks (Thomas Rhett, Florida Georgia Line, Luke Combs, Michael Ray, Locash, Frankie Ballard, Kasey Chambers, Troy Cassar-Daley, Danielle Bradbery) Willowbank, Mar 14-17.
By the C(John Farnham, Daryl Braithwaite, Jon Stevens, Vanessa Amorosi, Ross Wilson) Coolangatta, Mar 16.
April
Bluesfest,Byron Bay, Apr 18-22.
Way Out West(Amy Shark, Missy Higgins, Brett Eldredge, San Cisco) Winton, Apr 25-28.
May
Blues on Broadbeach (Canned Heat, Eric Bibb, Harts, The Bamboos, Tami Neilson) May 16-19.
July
Big Red Bash, Birdsville(Midnight Oil, The Living End, Kasey Chambers) Birdsville, Jul 16-18.